Another year. Another Apocalypse.

That could be the motto of the Myrtle Beach Zombie Walk, an annual charity benefit that's casually transformed from a small group of costumed freaks wondering the streets into one of the area's most awaited and exciting fundraising events.

Now in its fifth year, the zombie walk has continued to grow into something special for the local alternative crowd, while also gaining notice from a more and more mainstream audience.

Even after an event which saw a threat of extreme weather in 2011 — a tornado watch and predicted storms which luckily held off until after the walk — the event still managed to increase attendance to more than 500 attendees in 2011. This year organizers are hoping for an even better turnout.

"Each year it's grown and this year I'd expect around 700 people when all is said and done," said Adam Russell, a local DJ who's taken the lead as director of this year's event after assisting with music and booking in past years.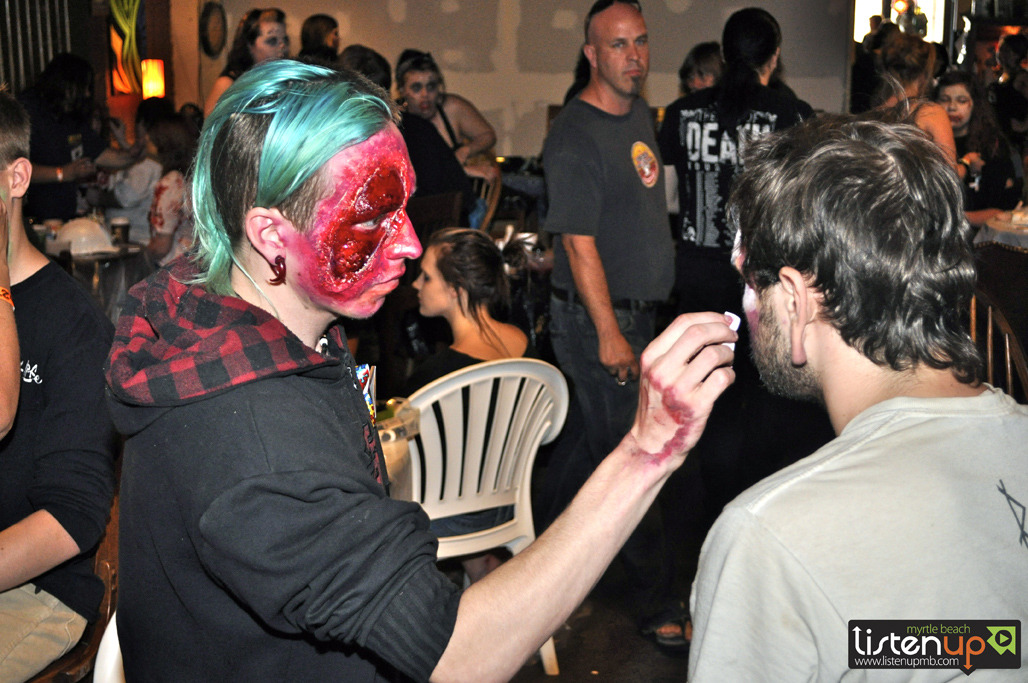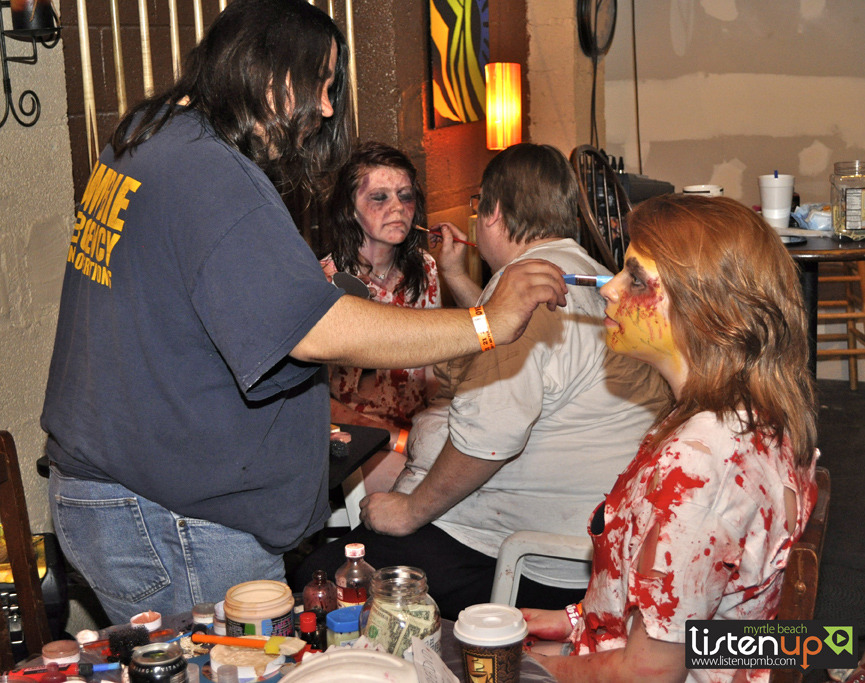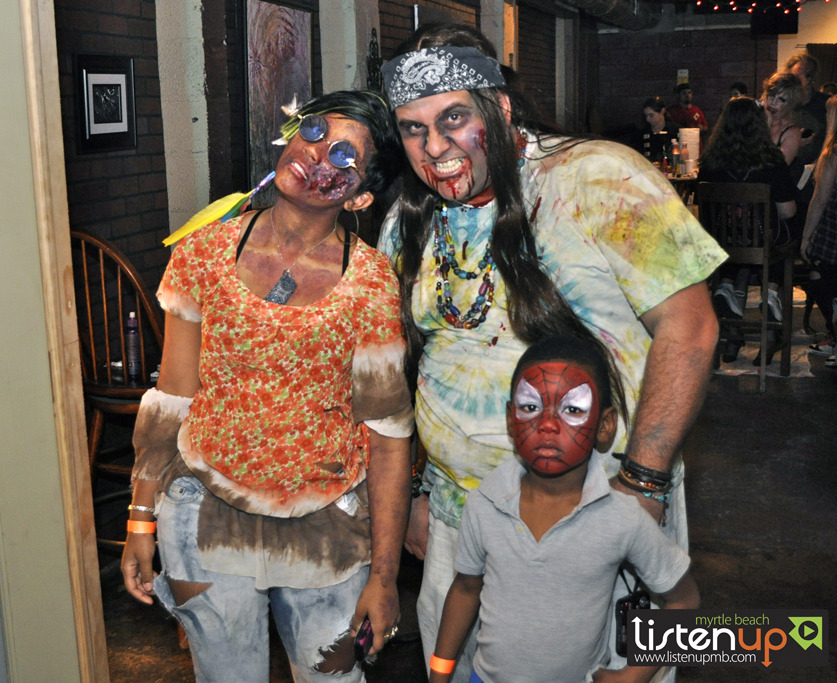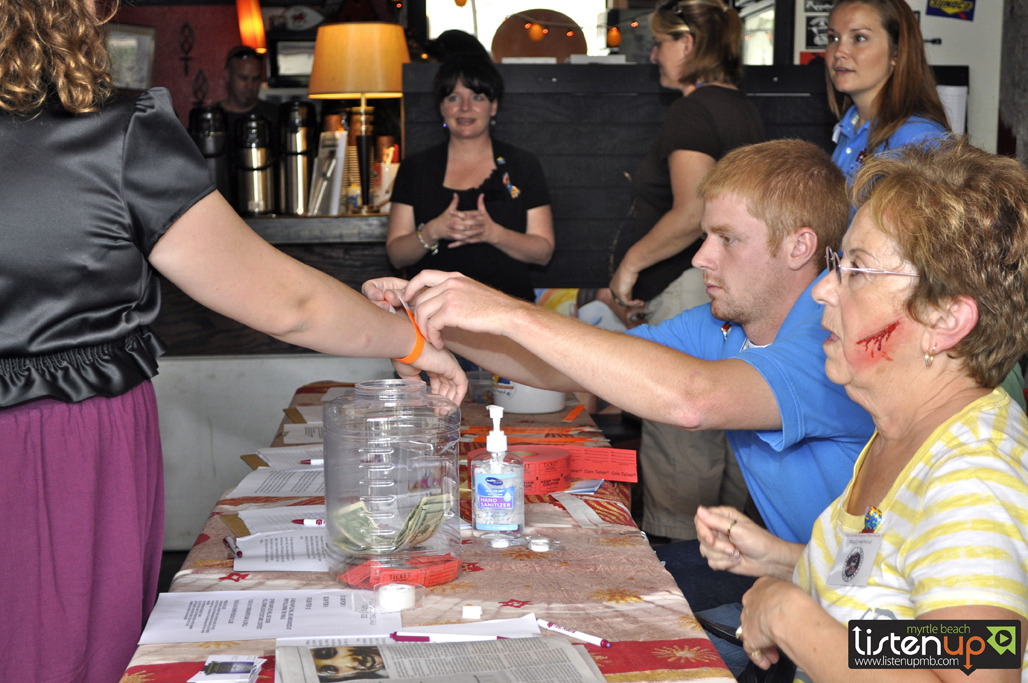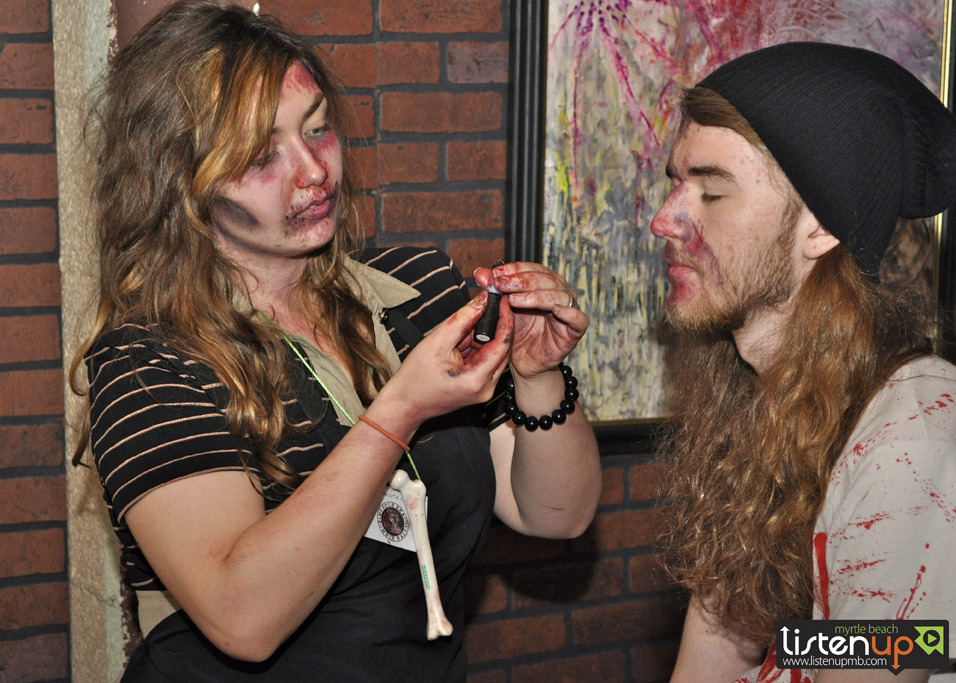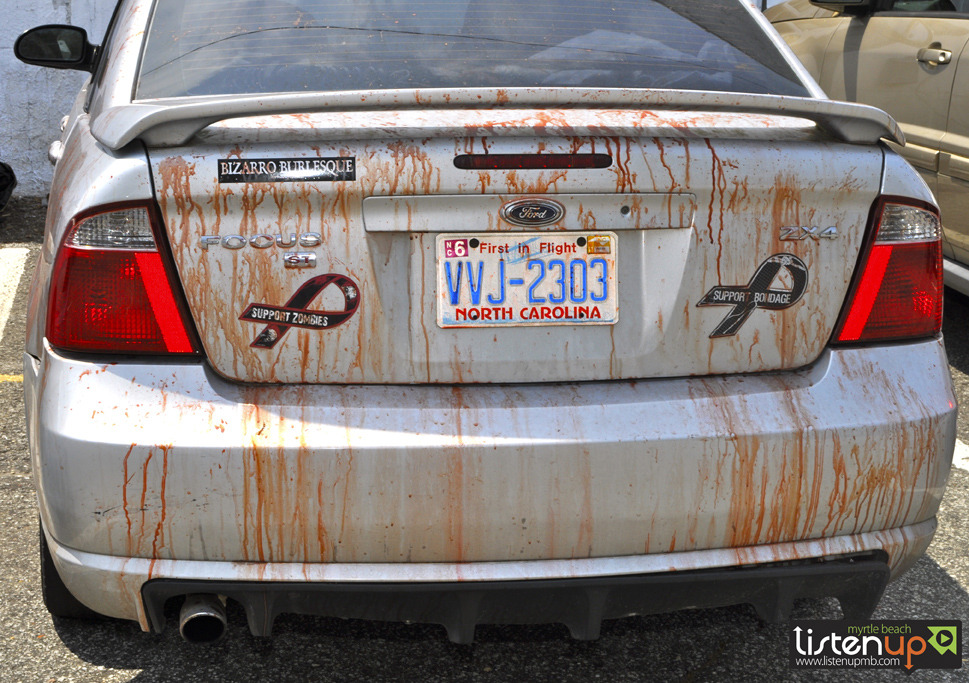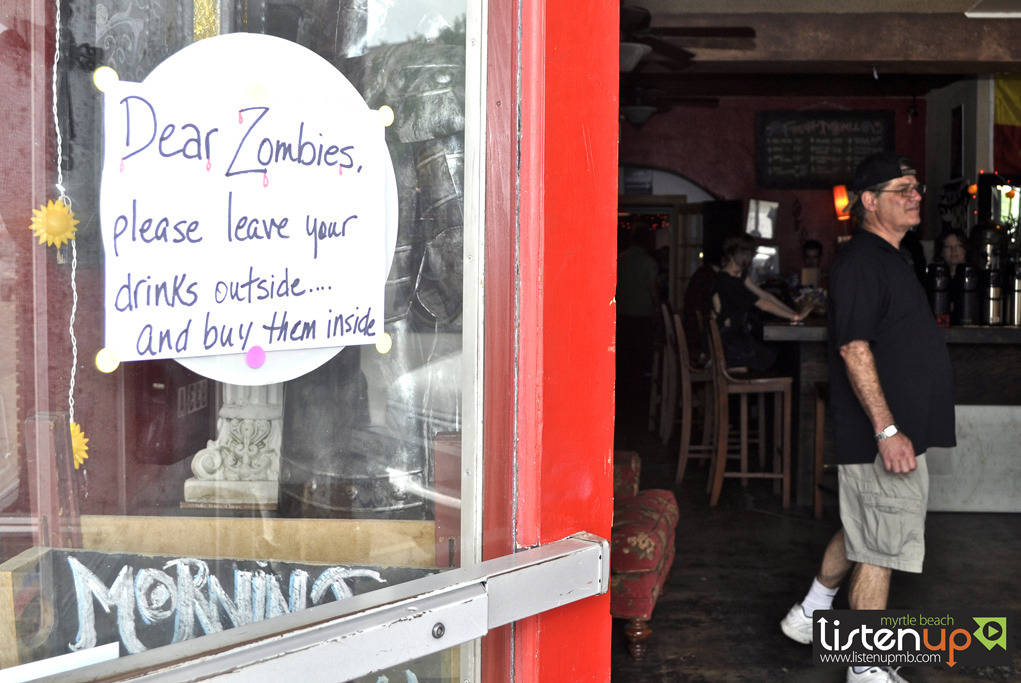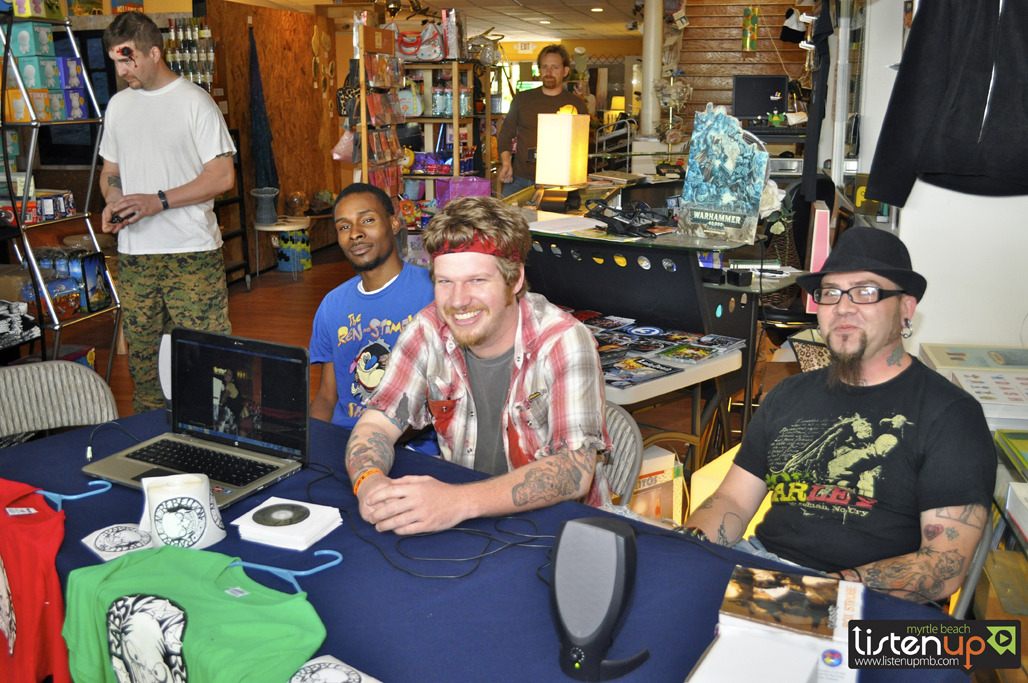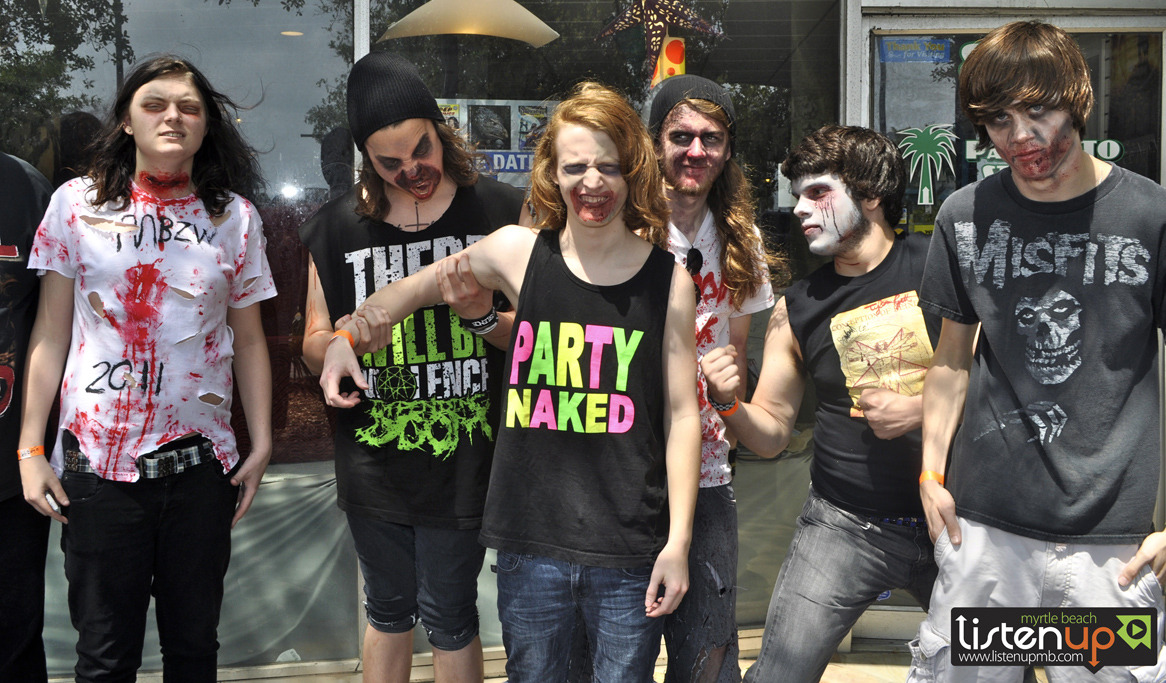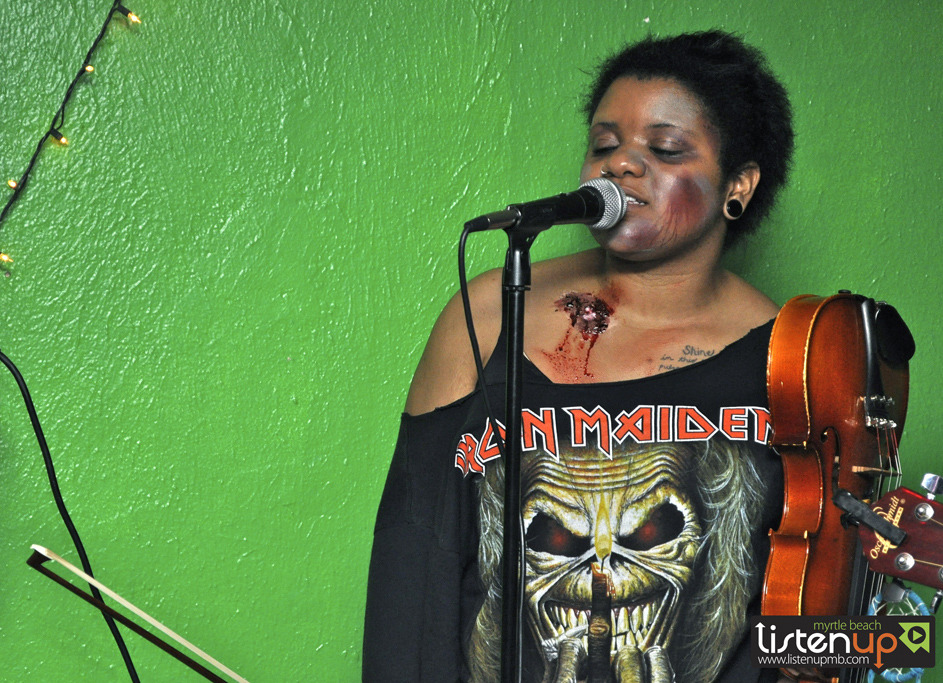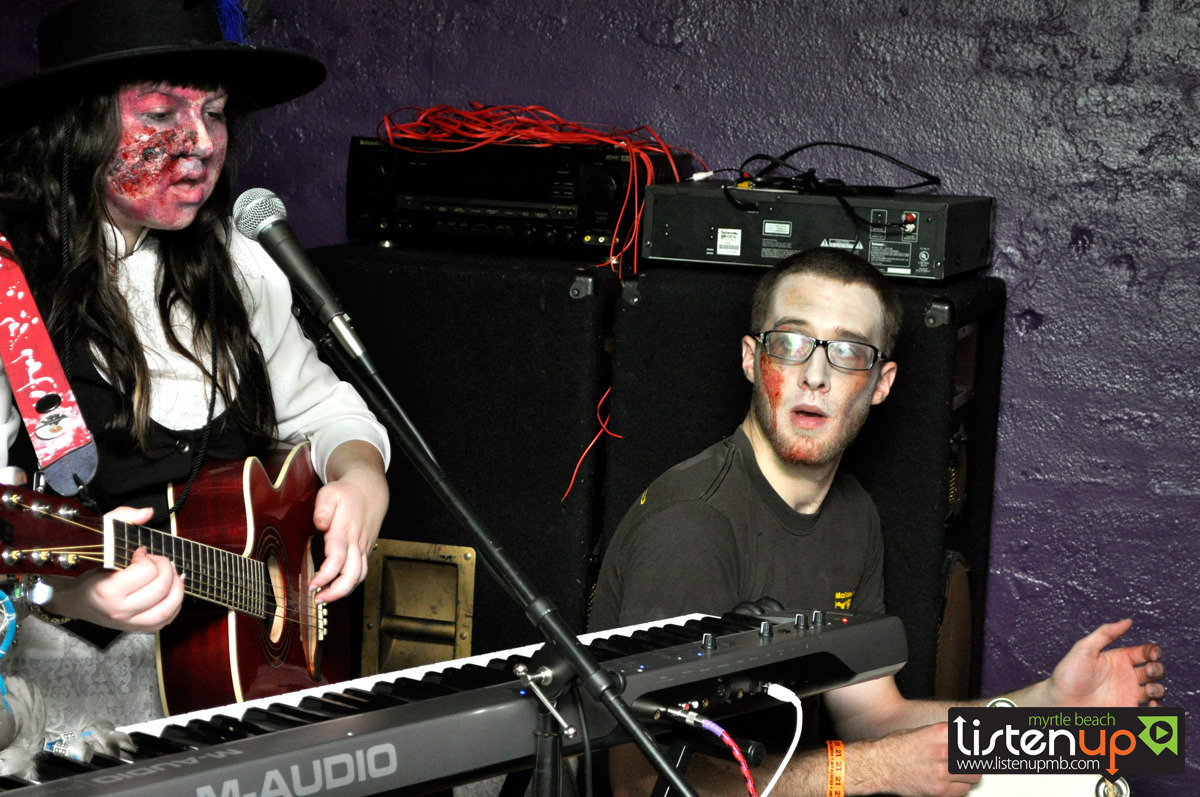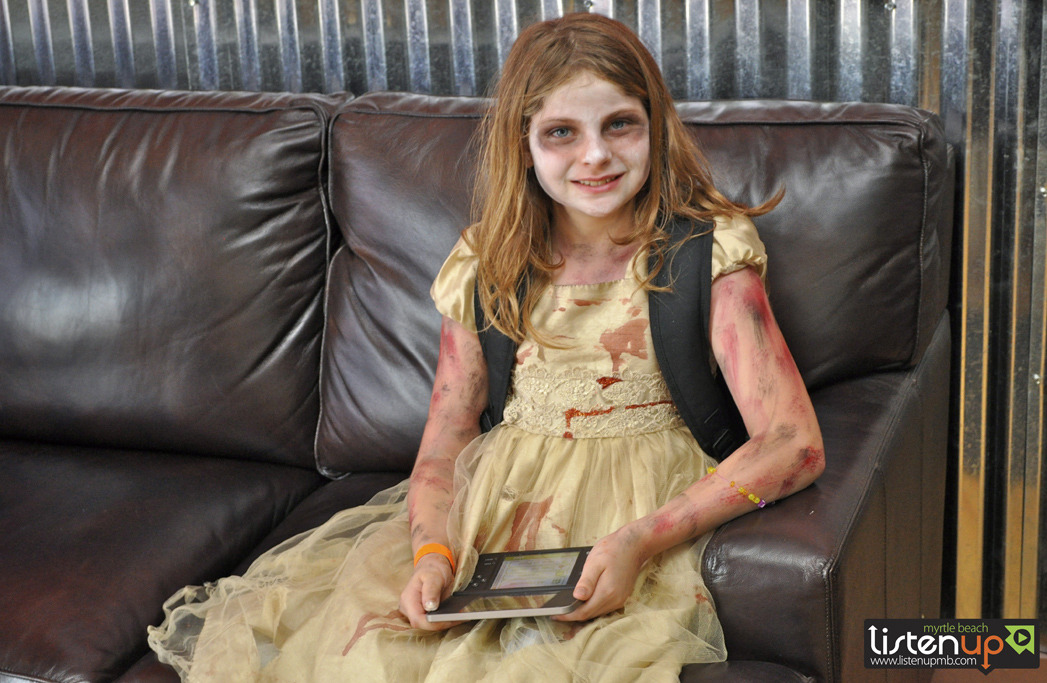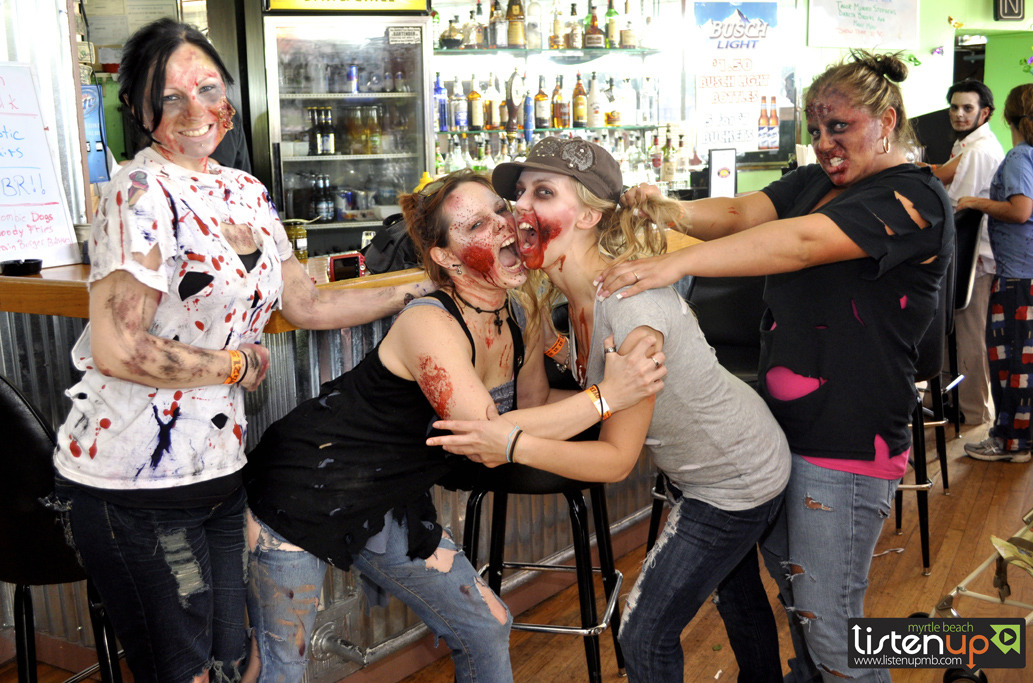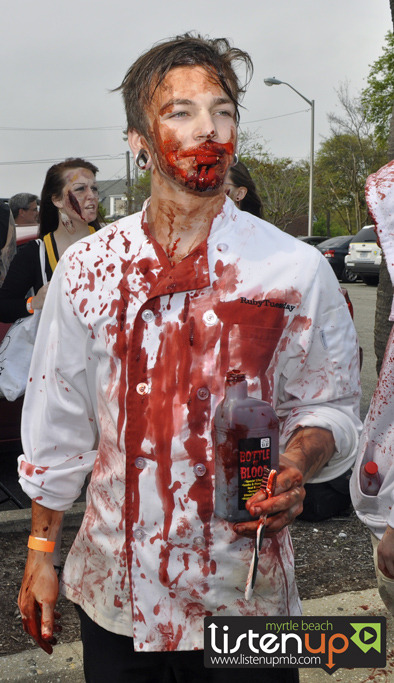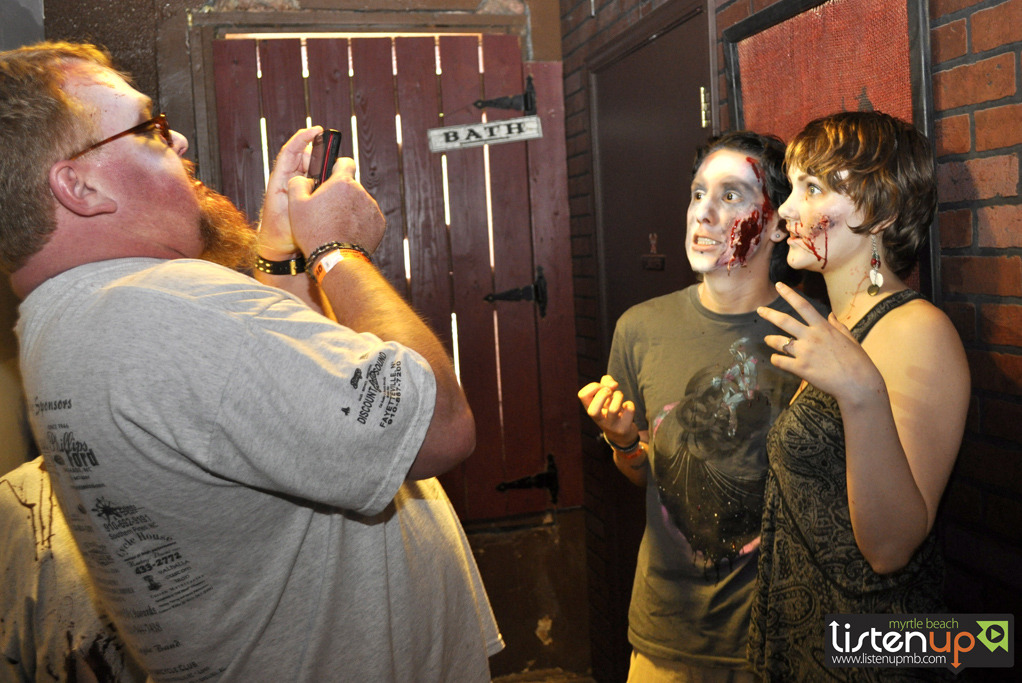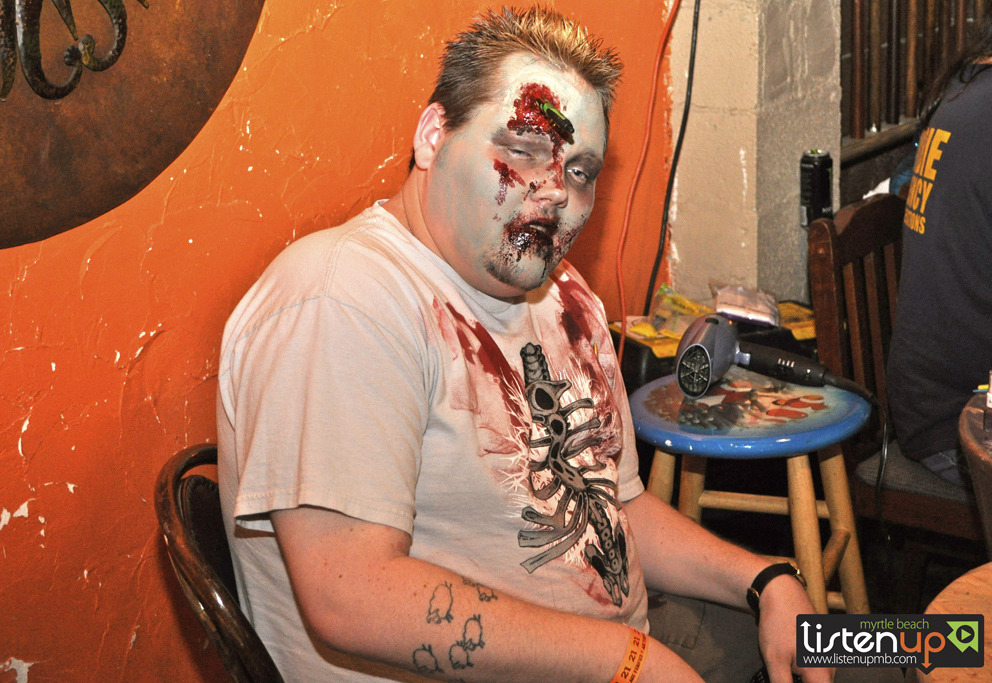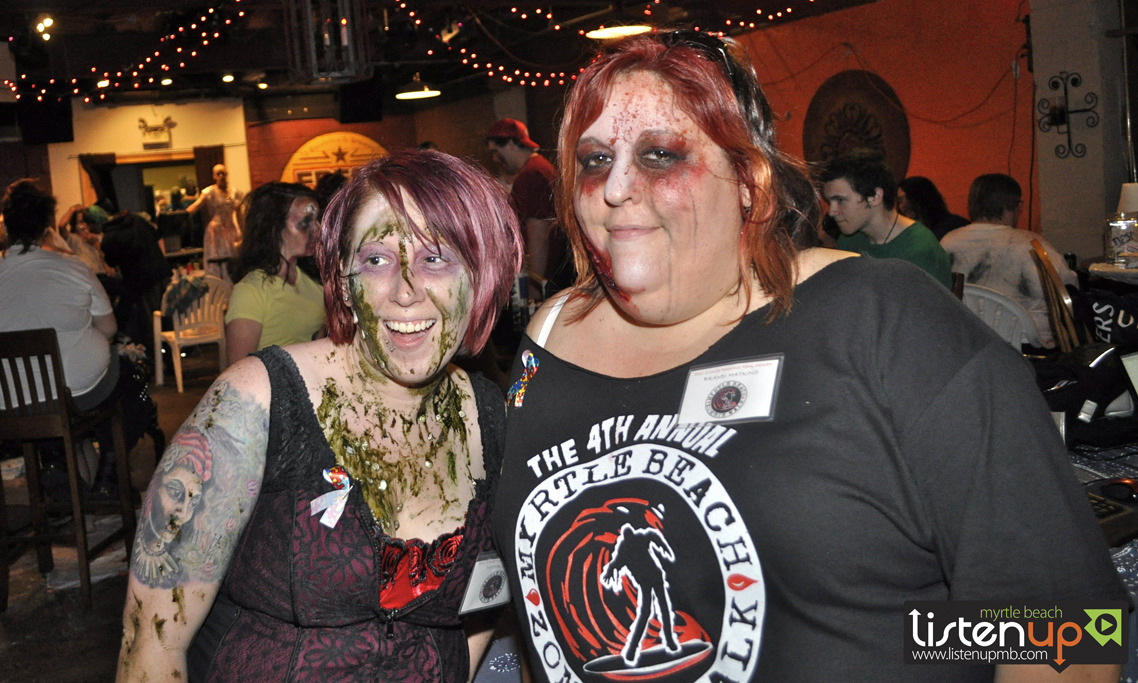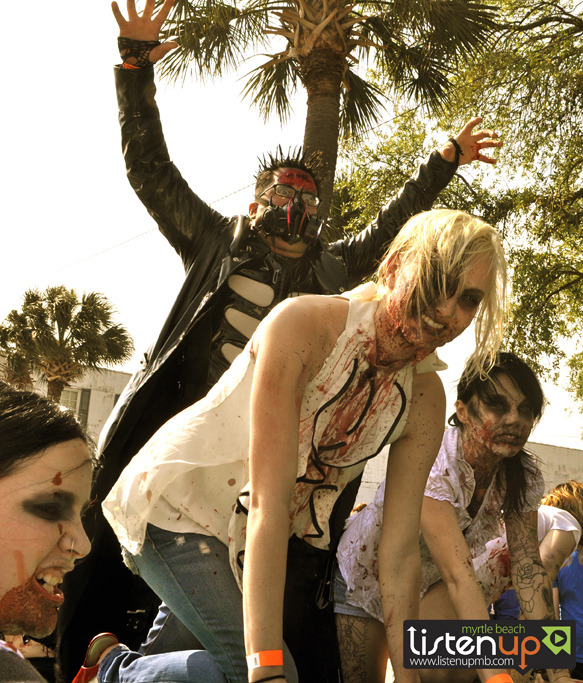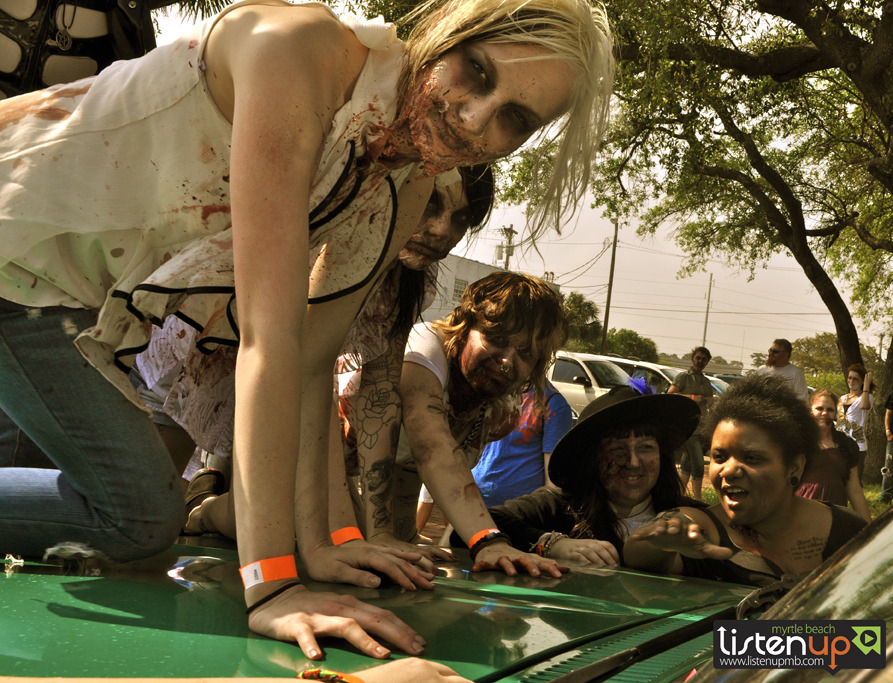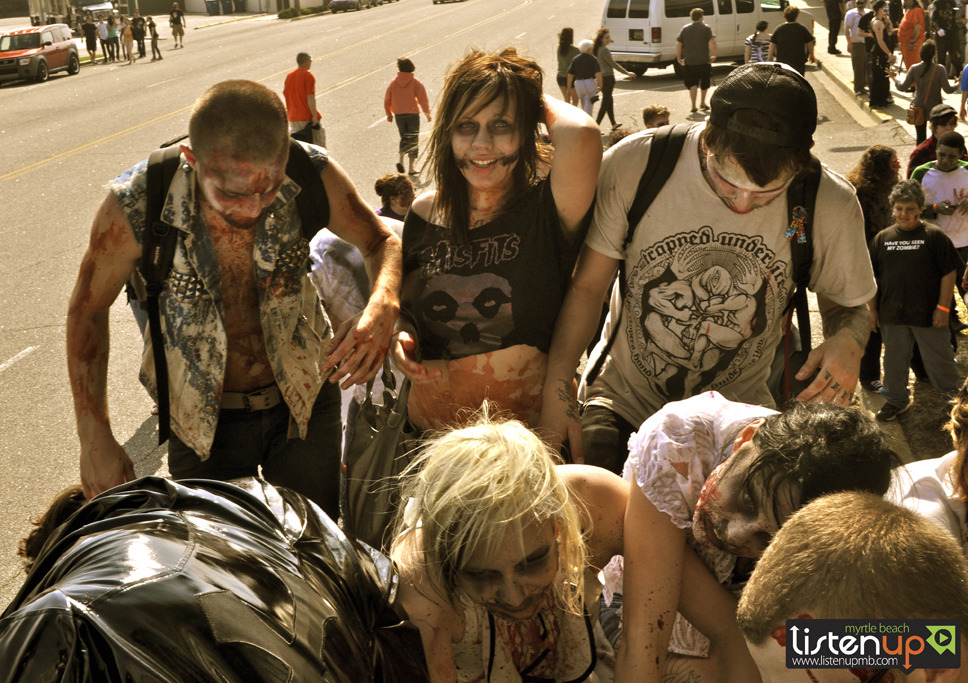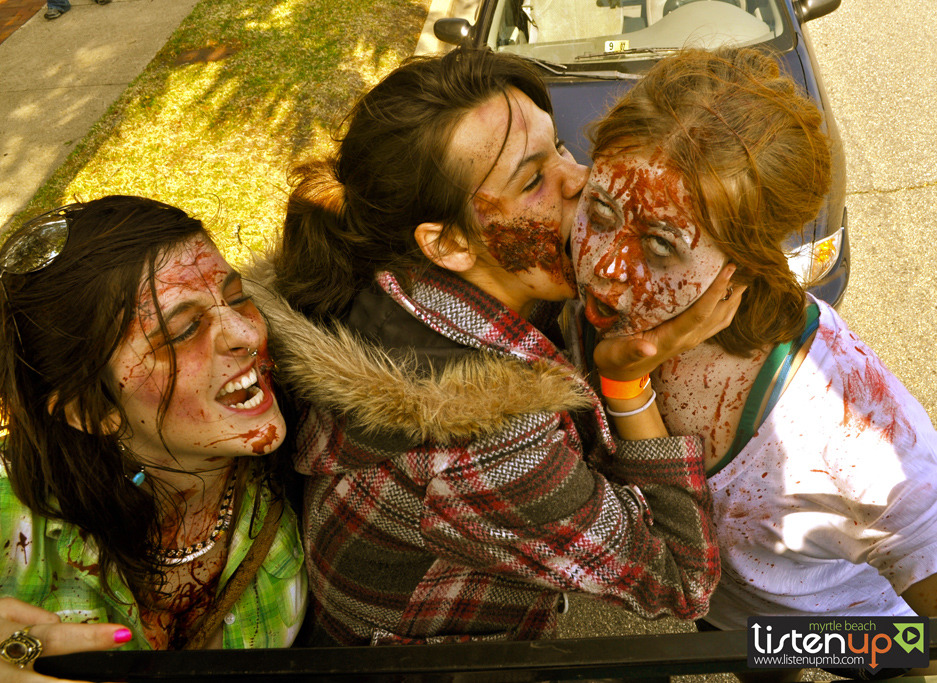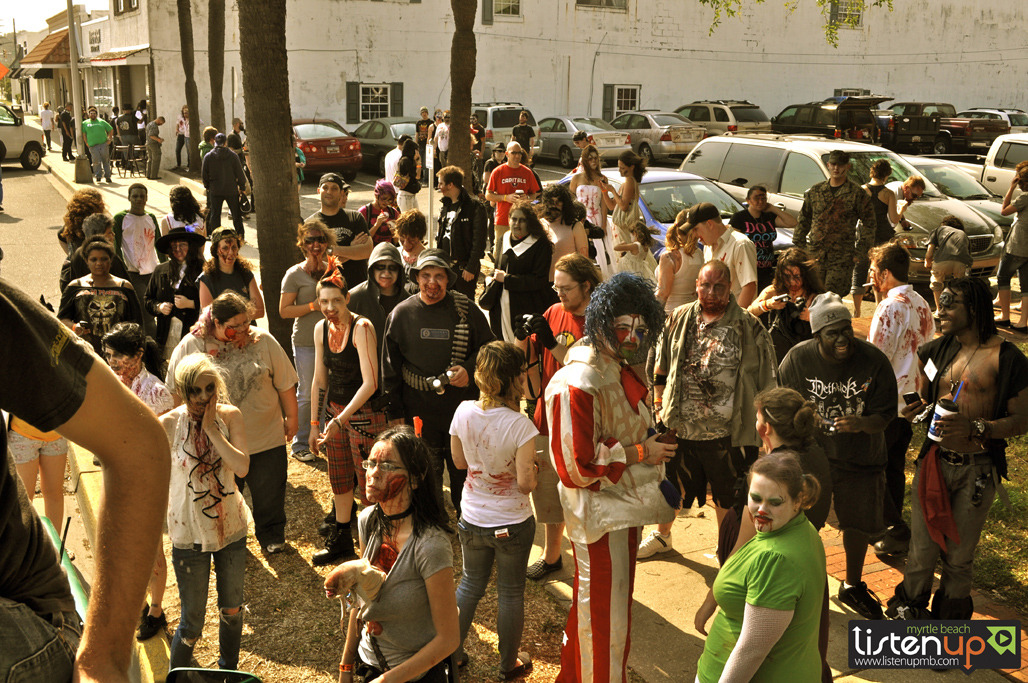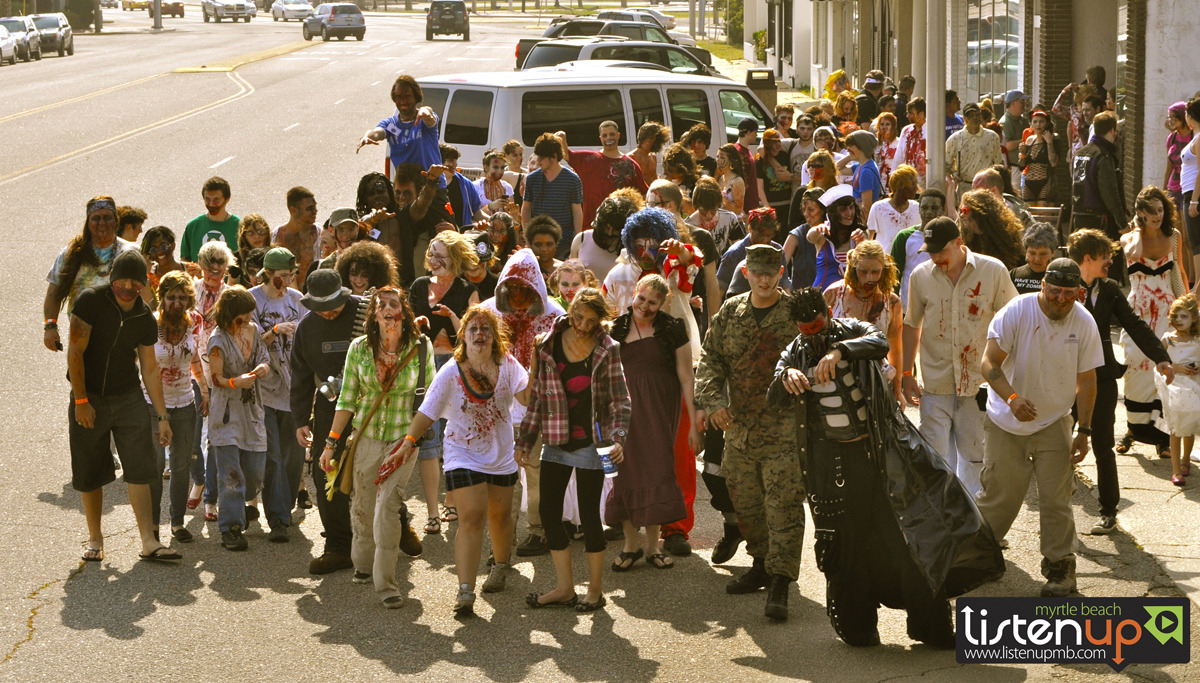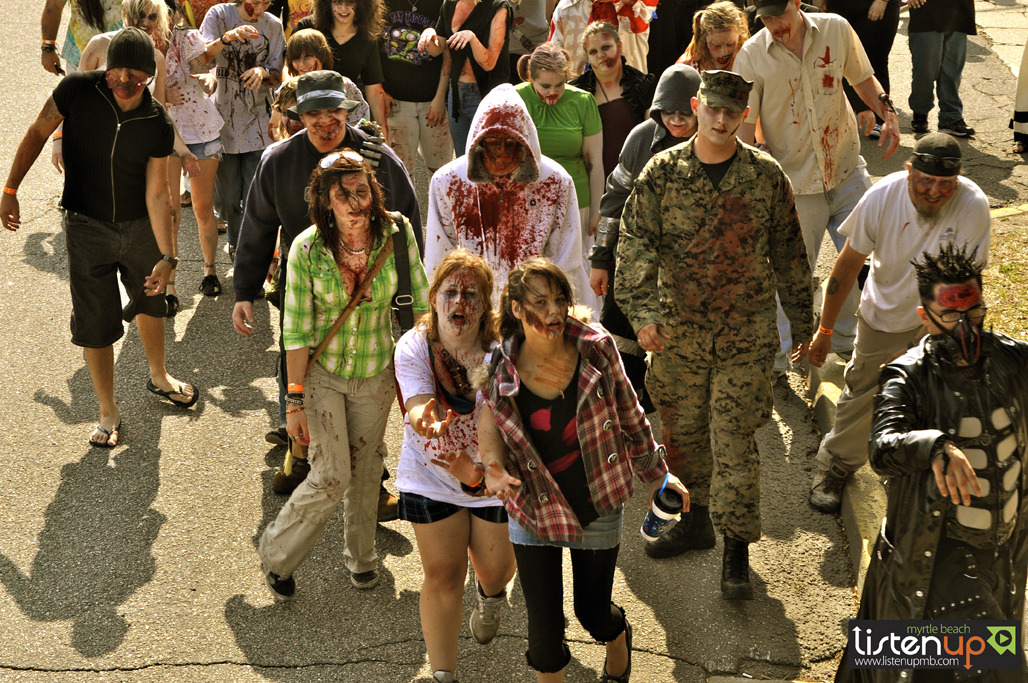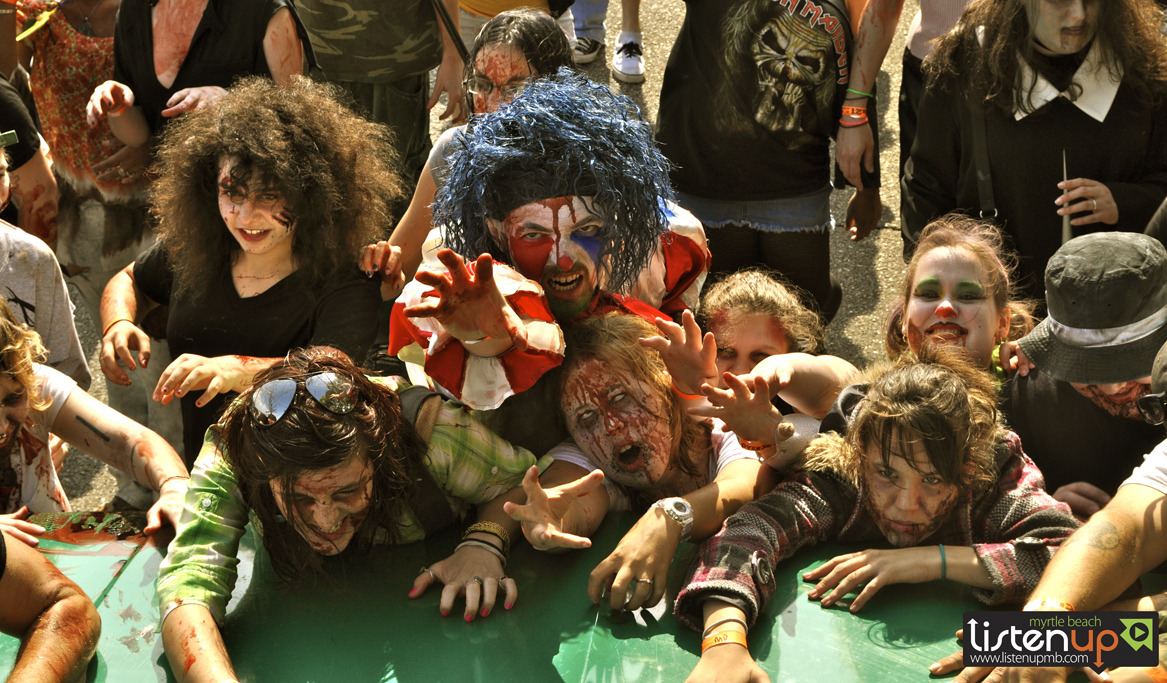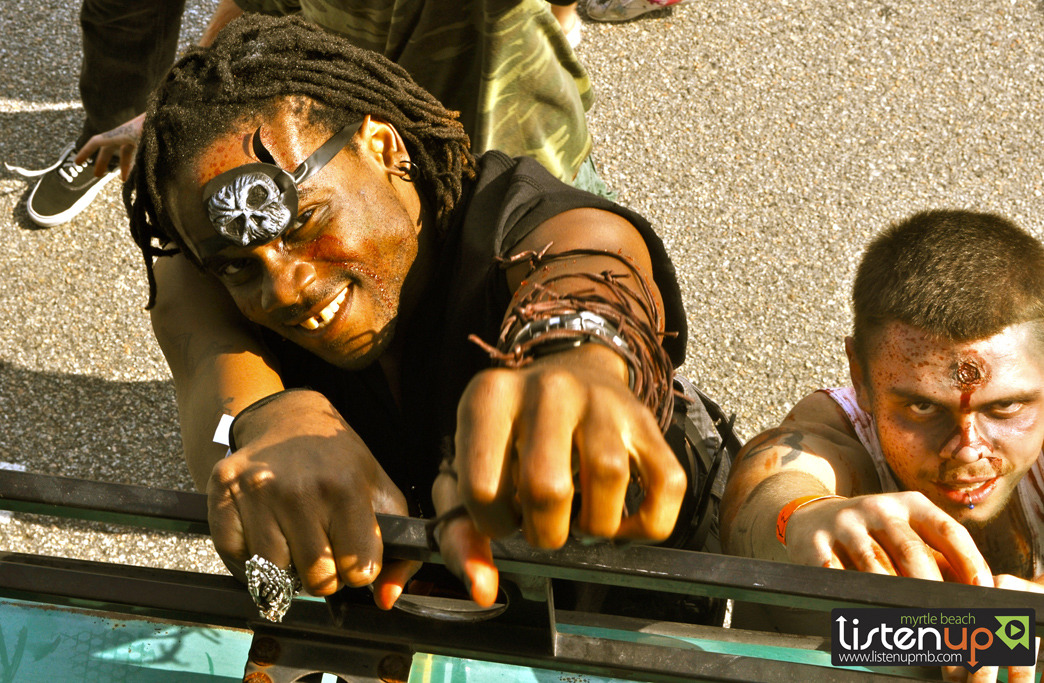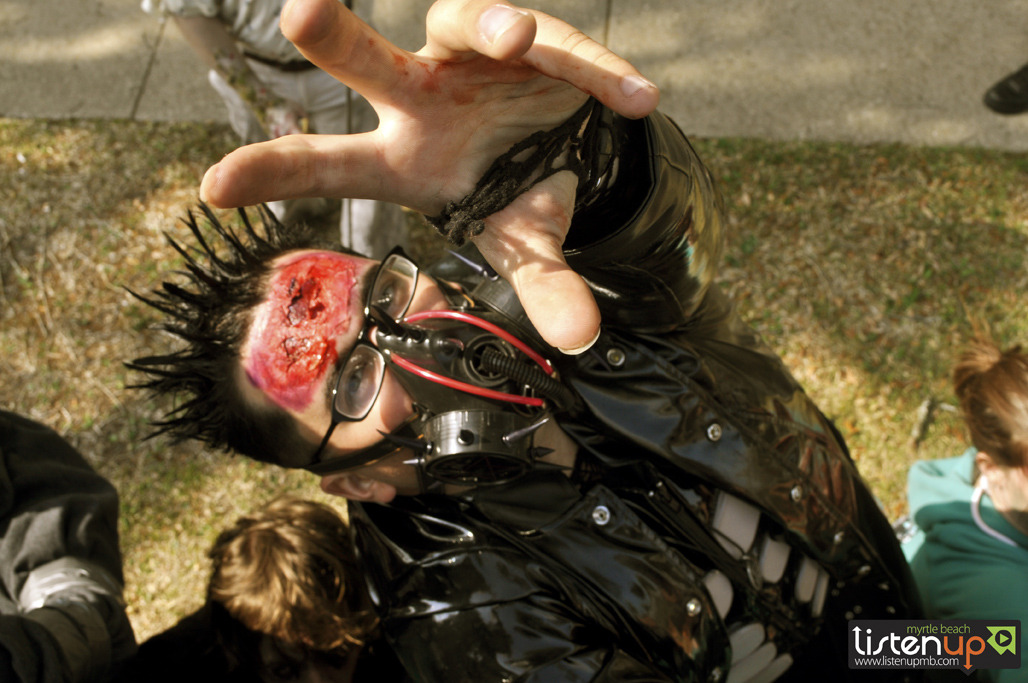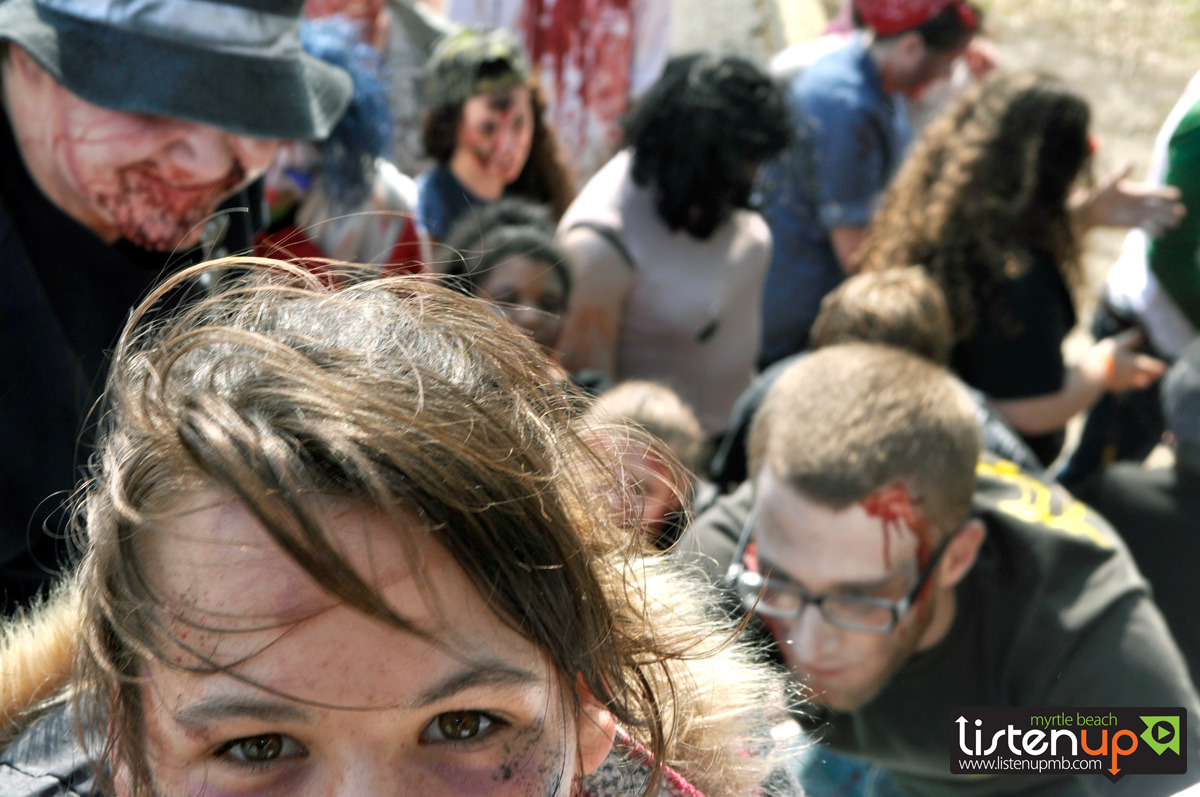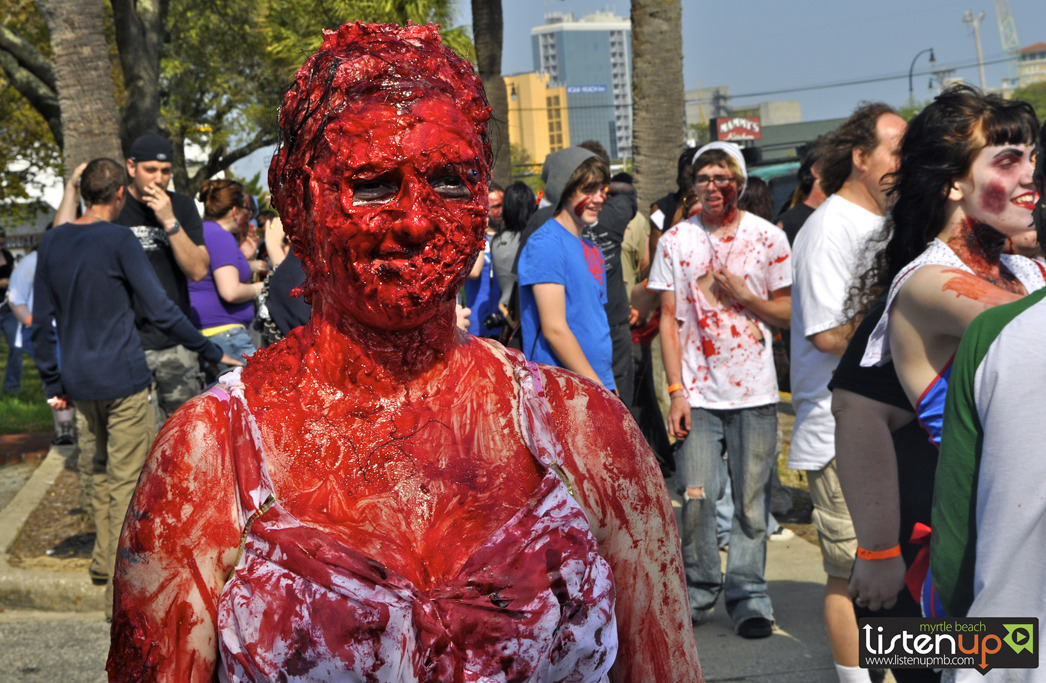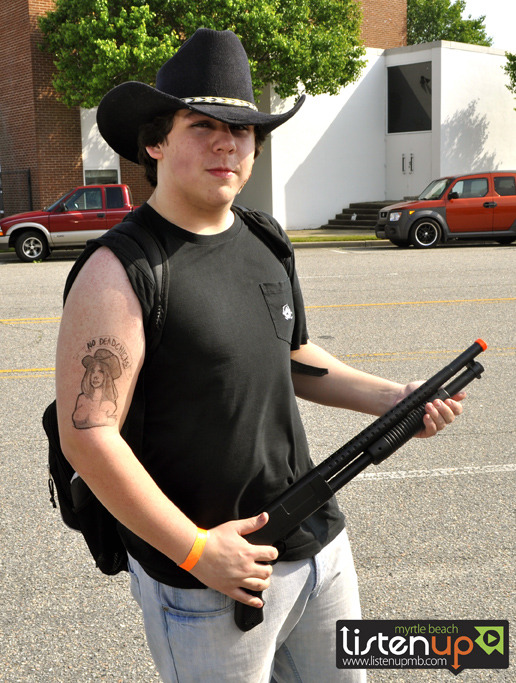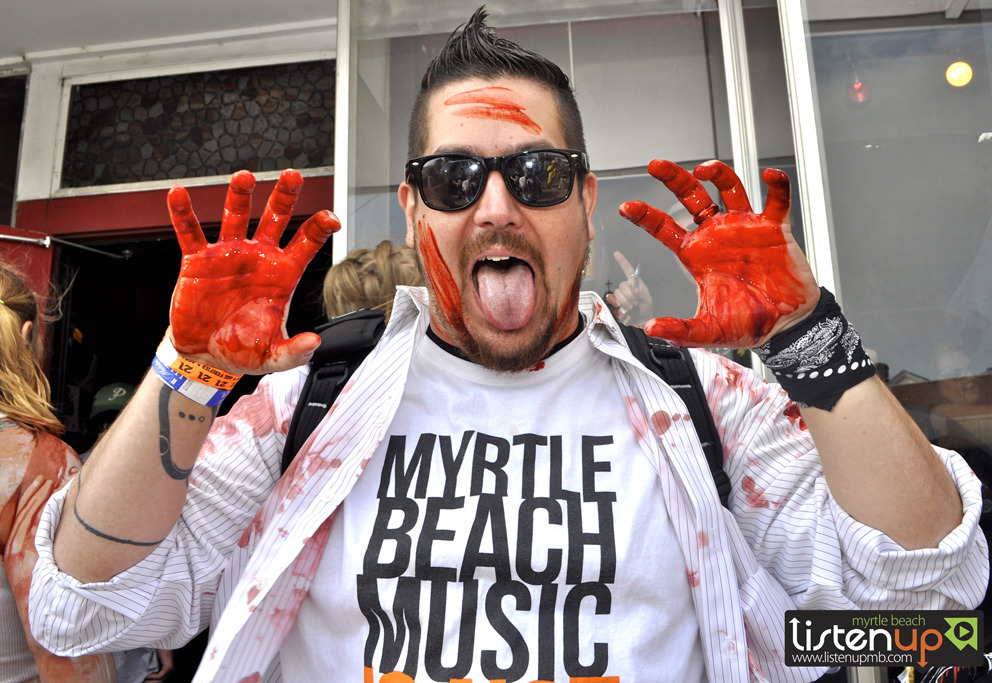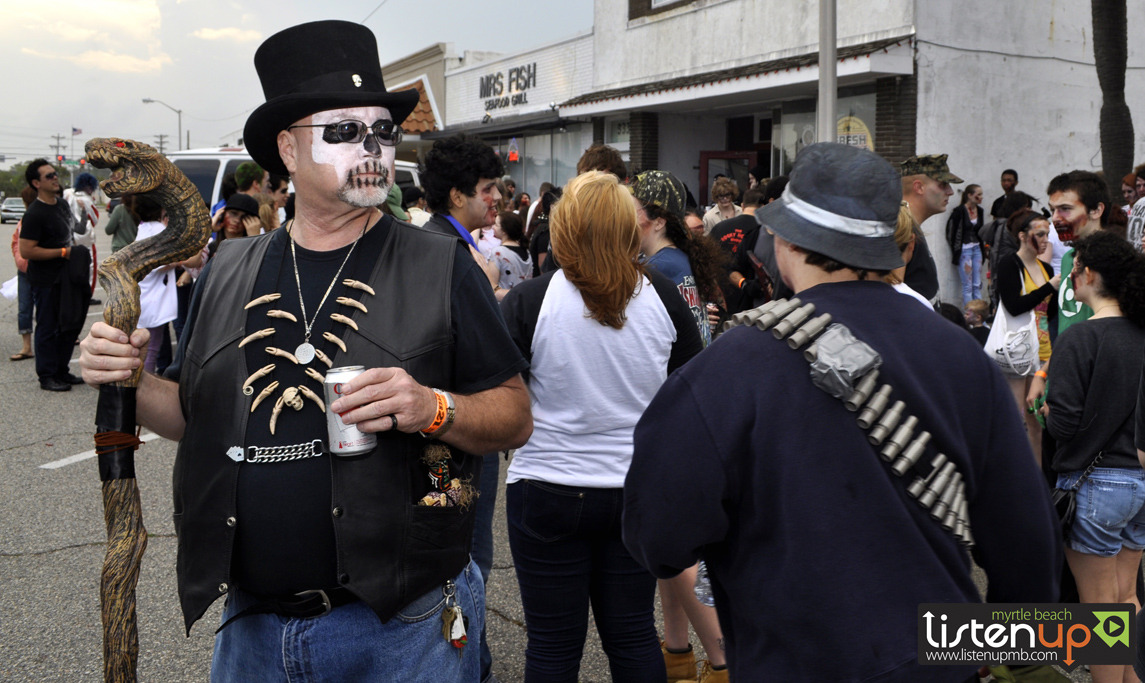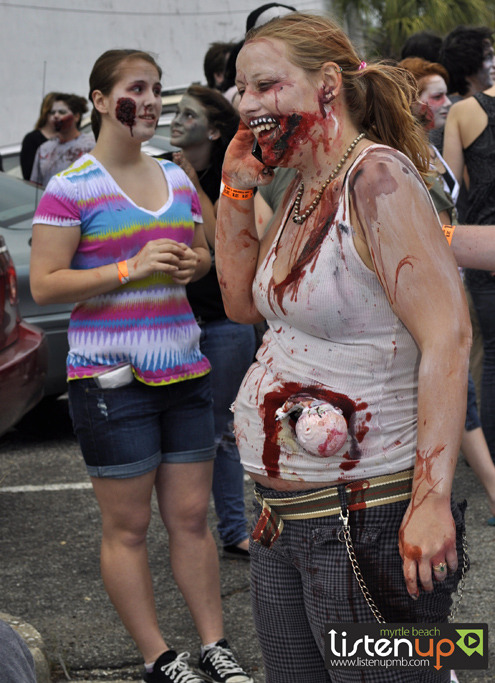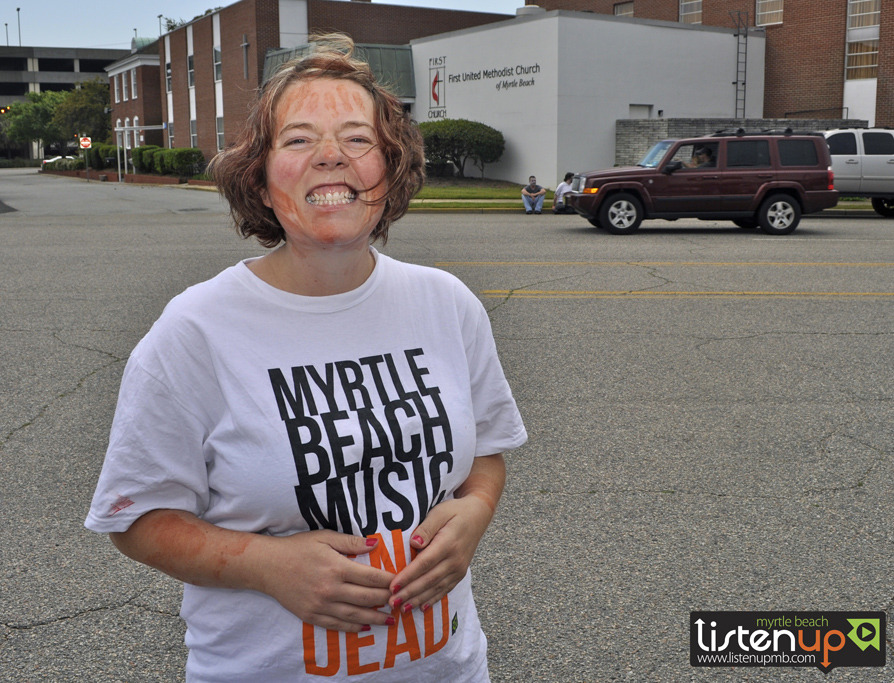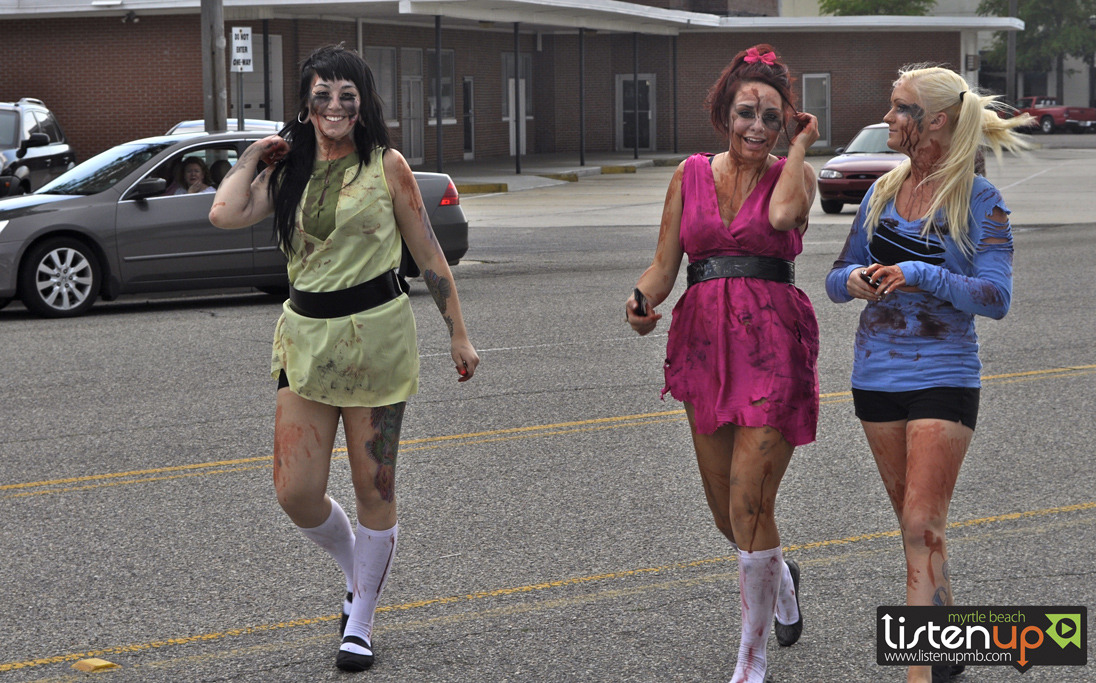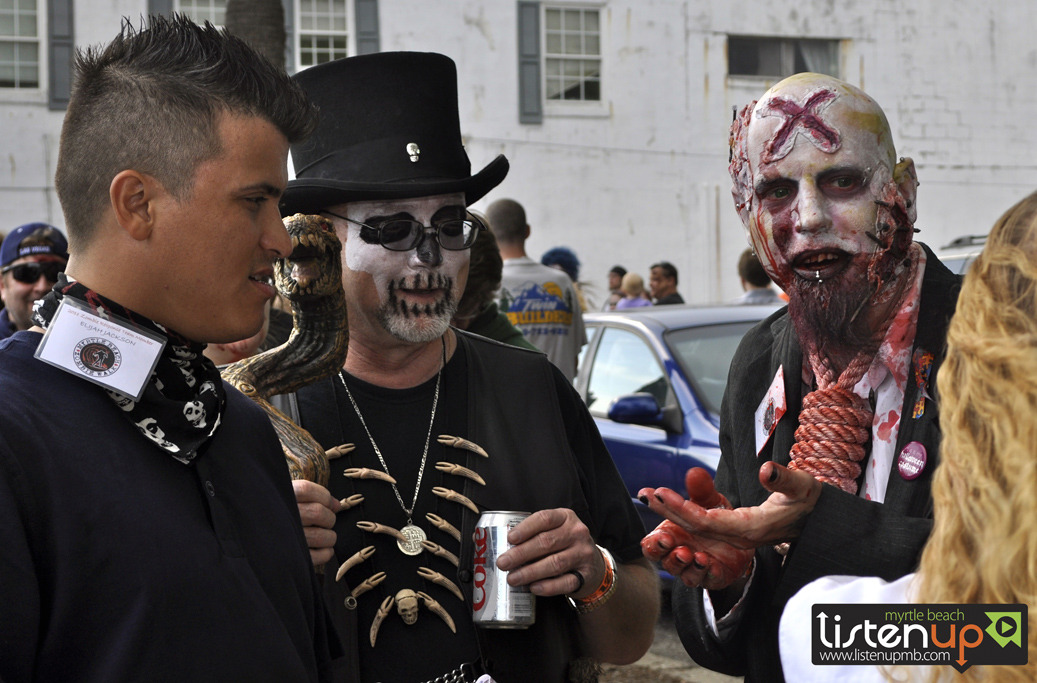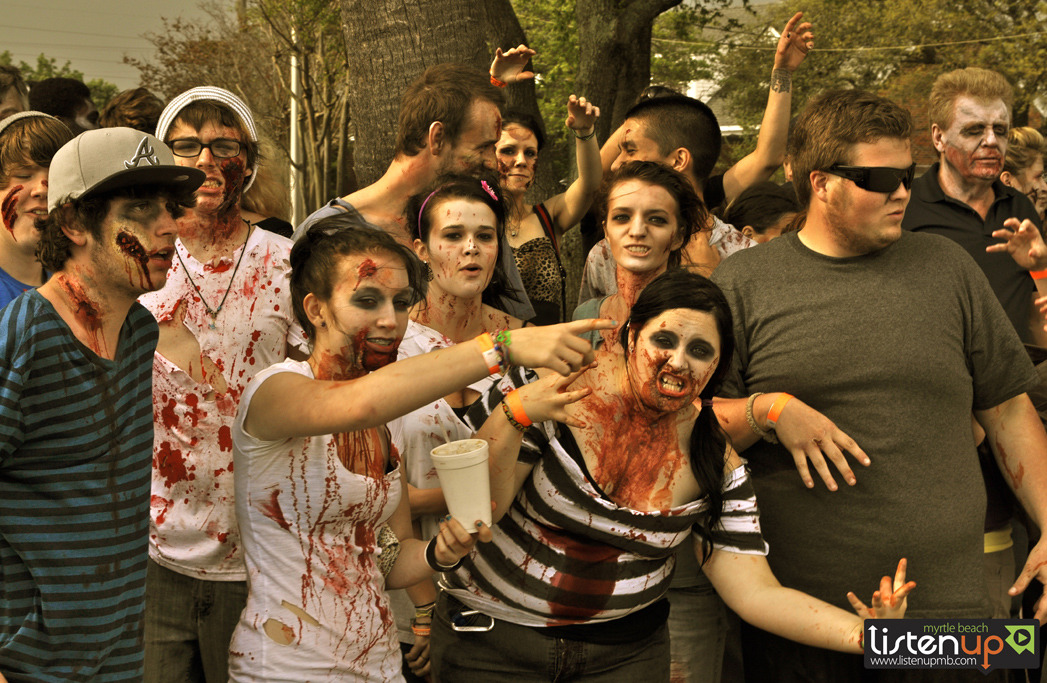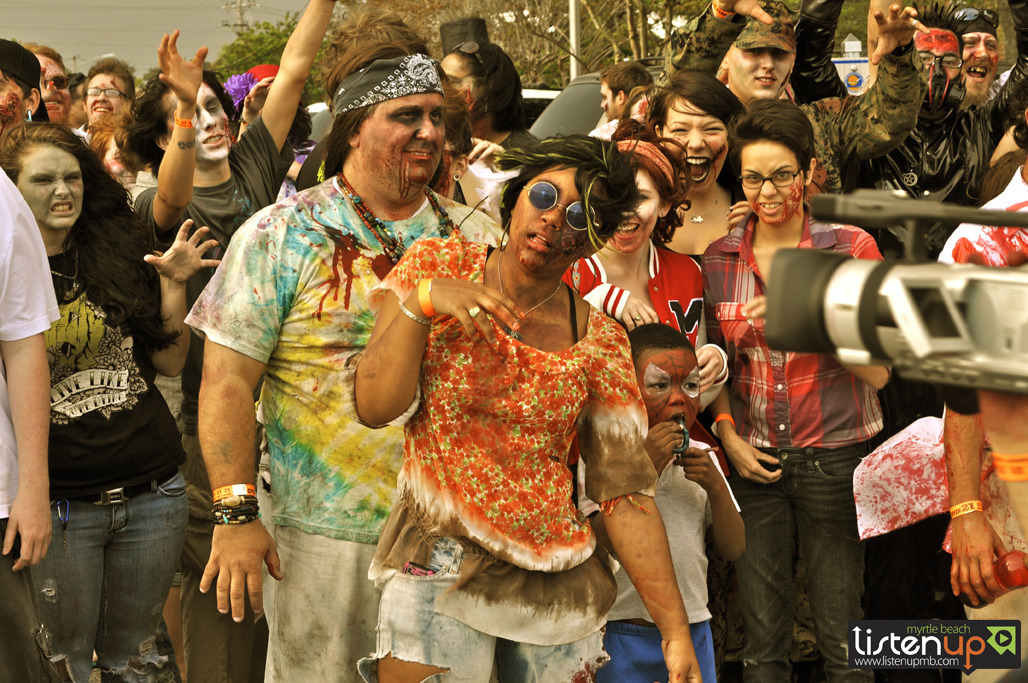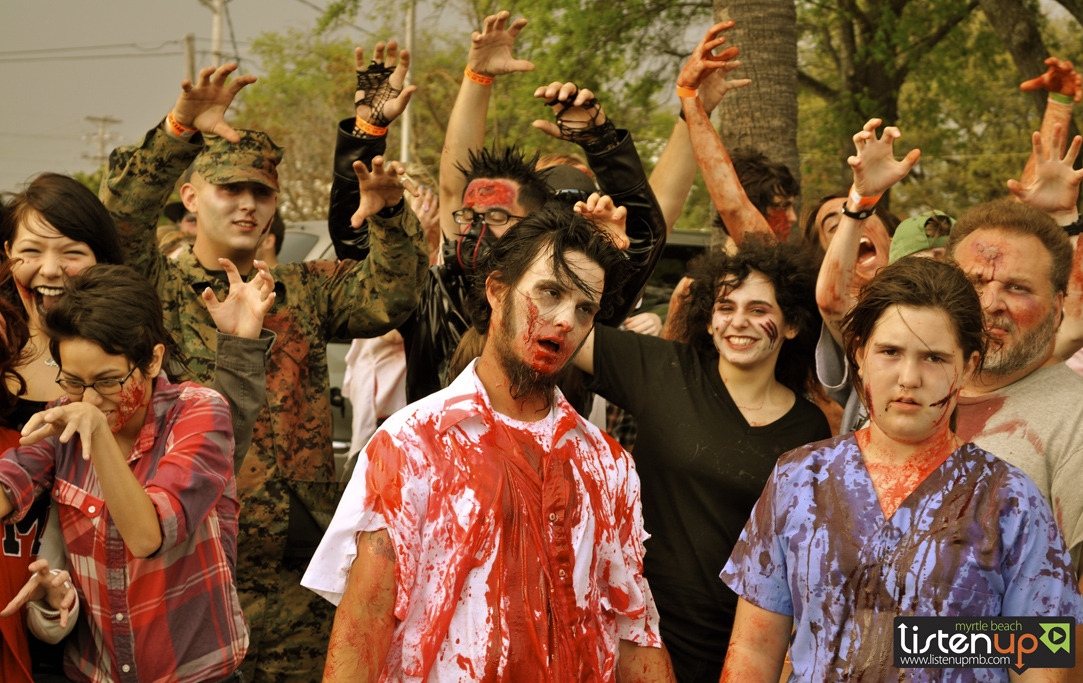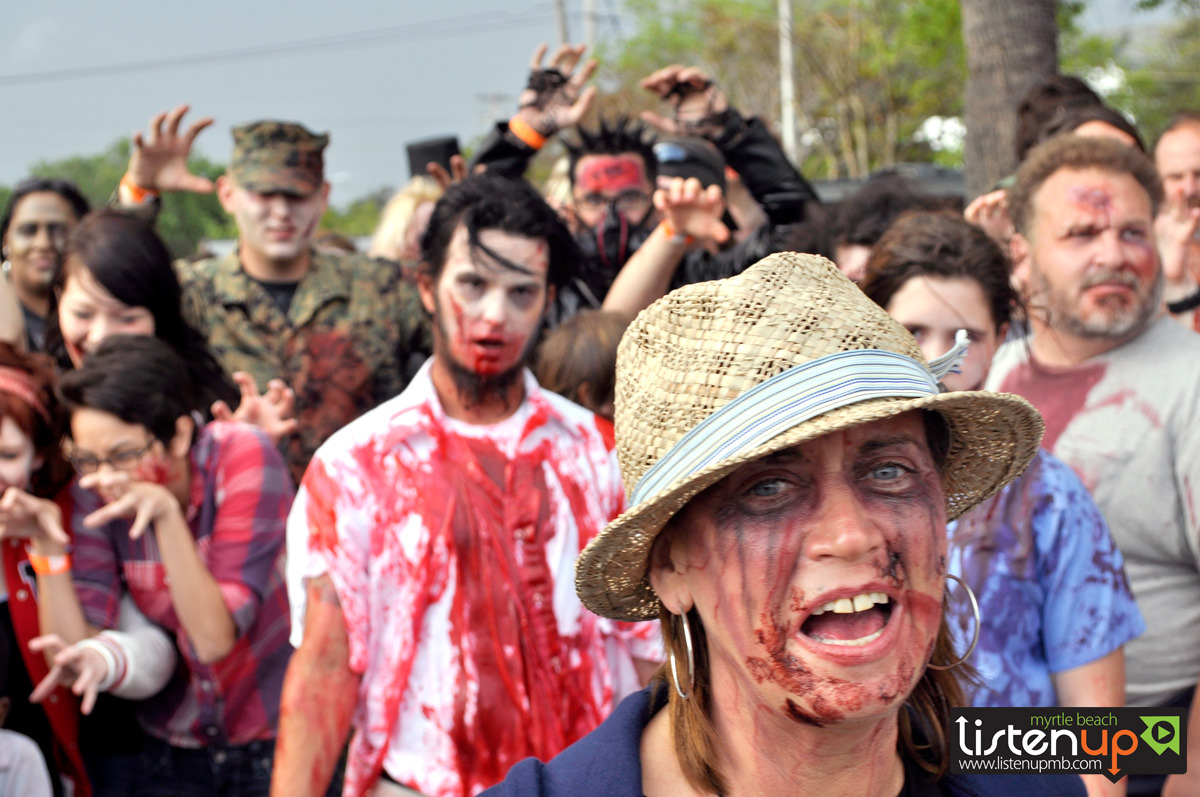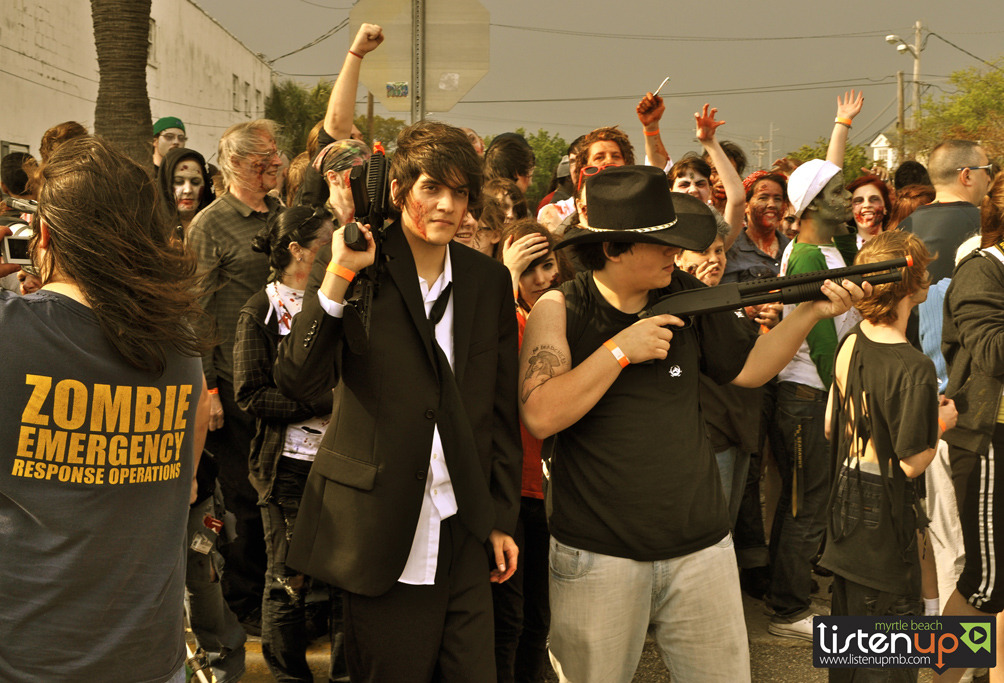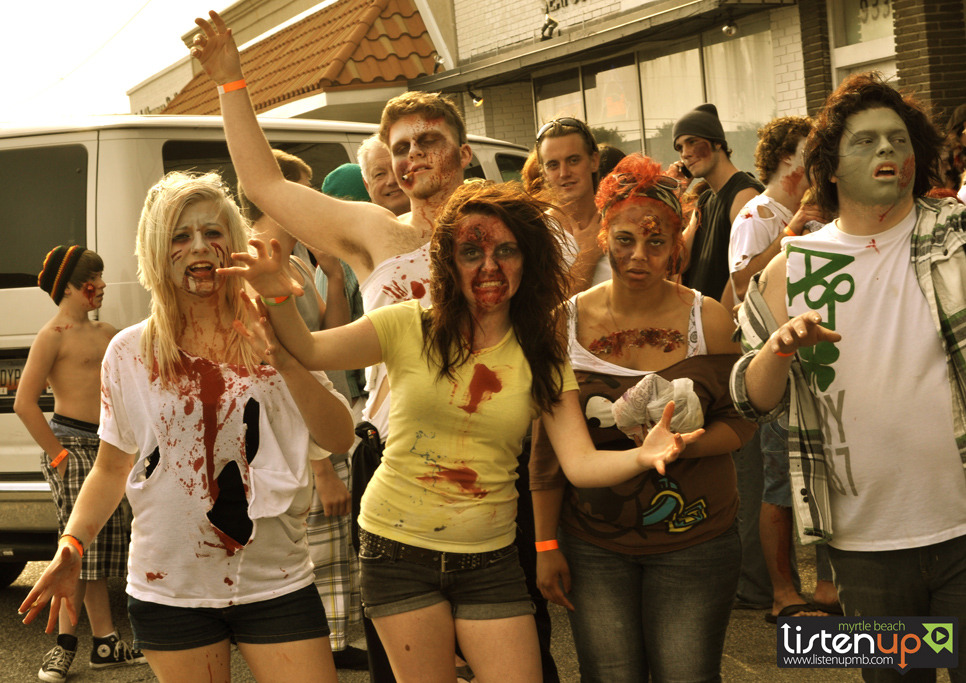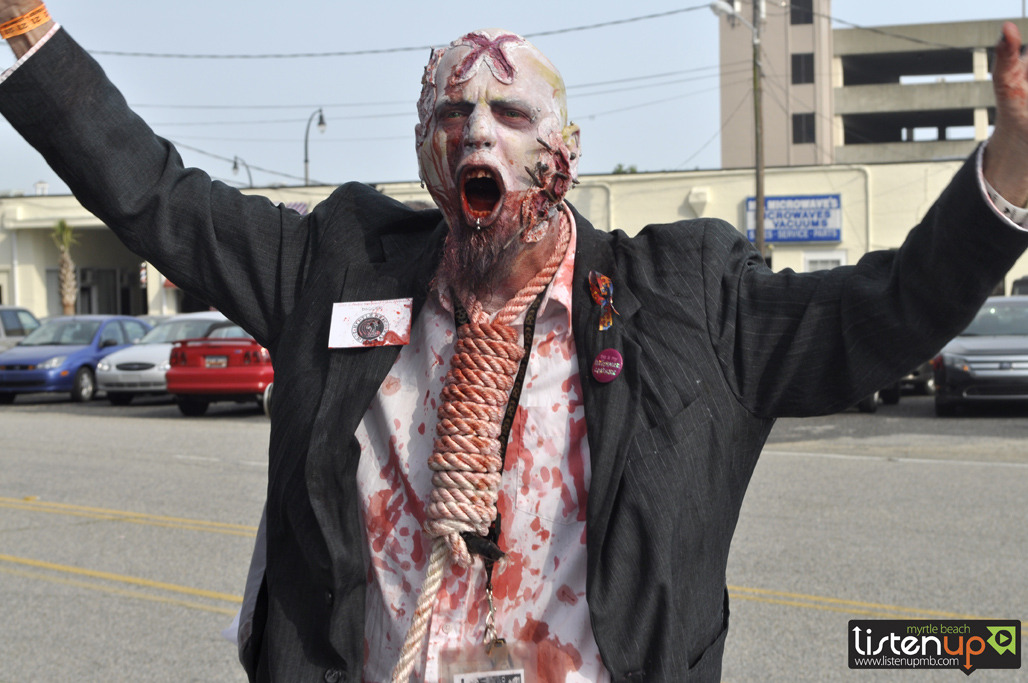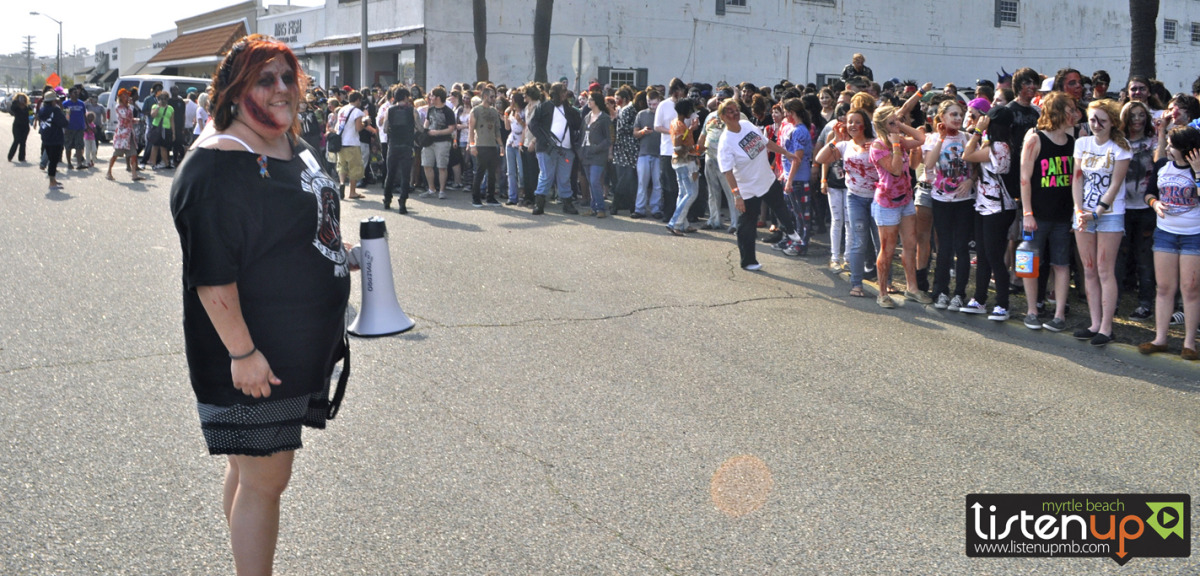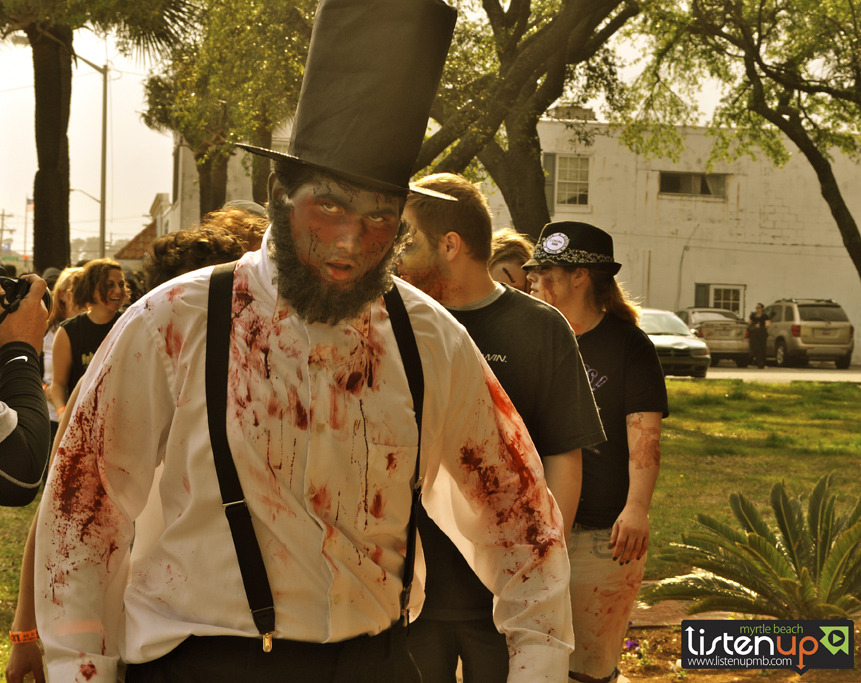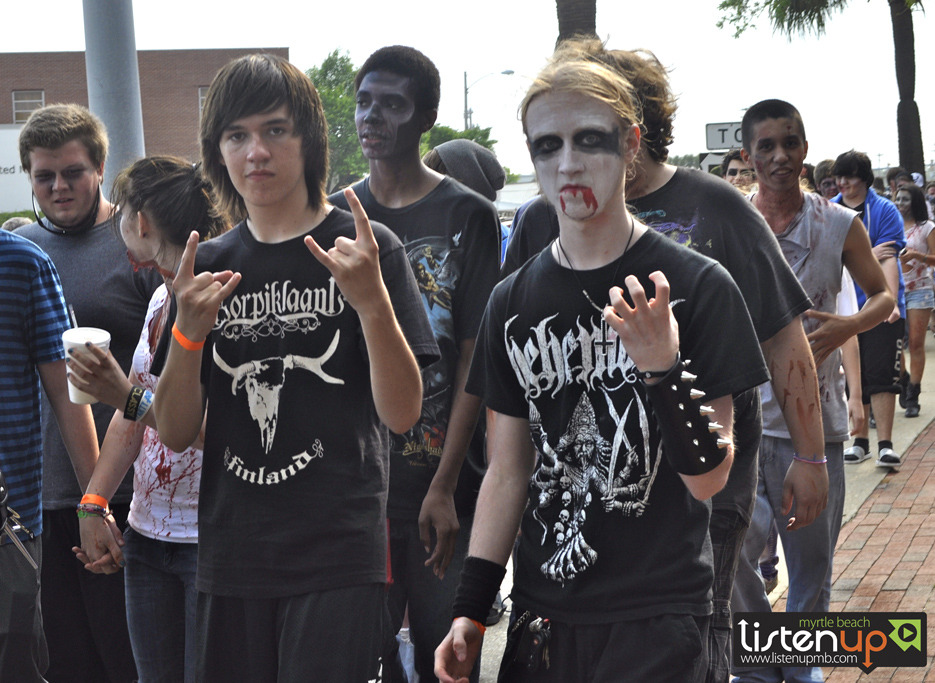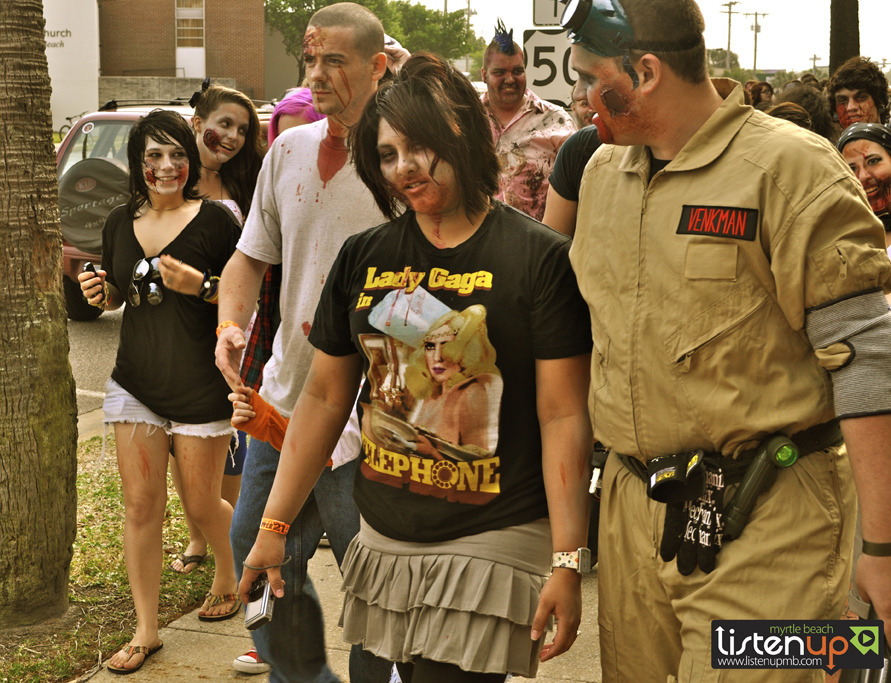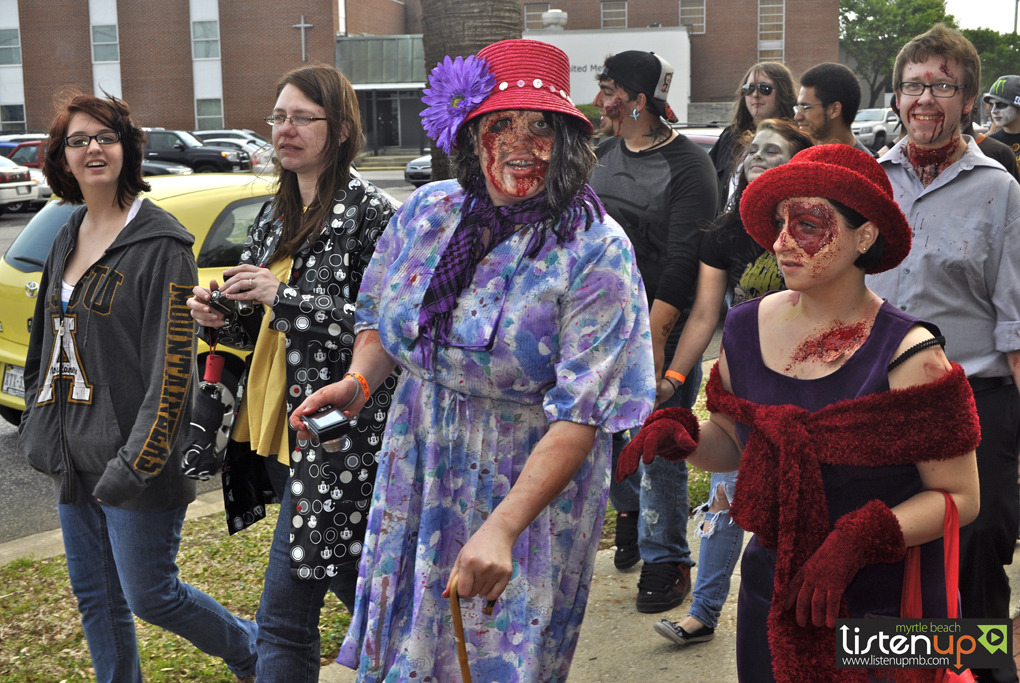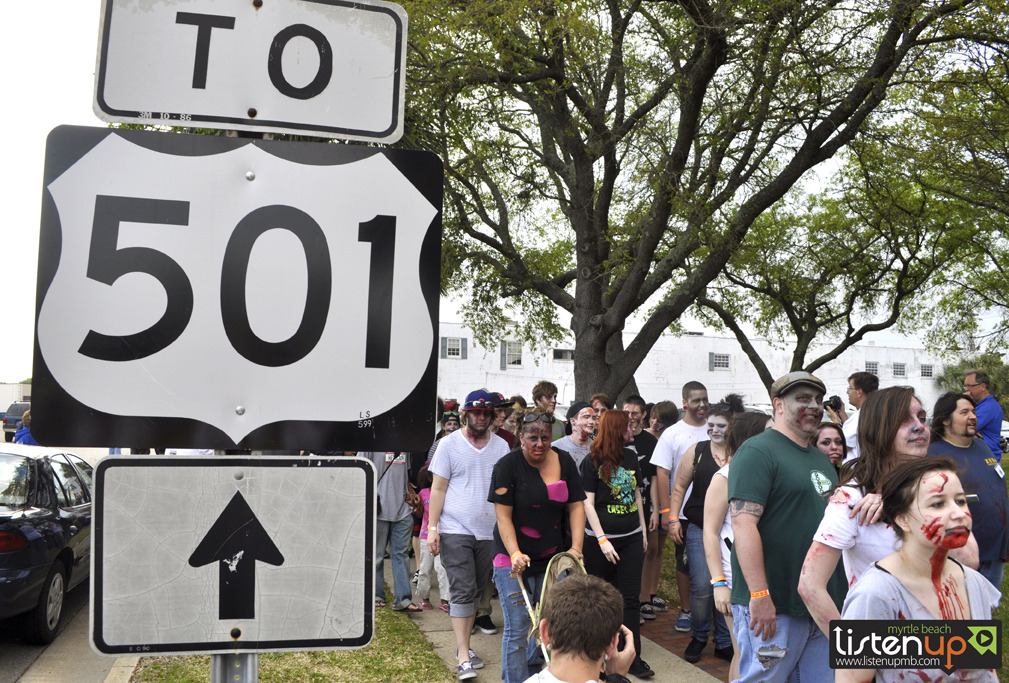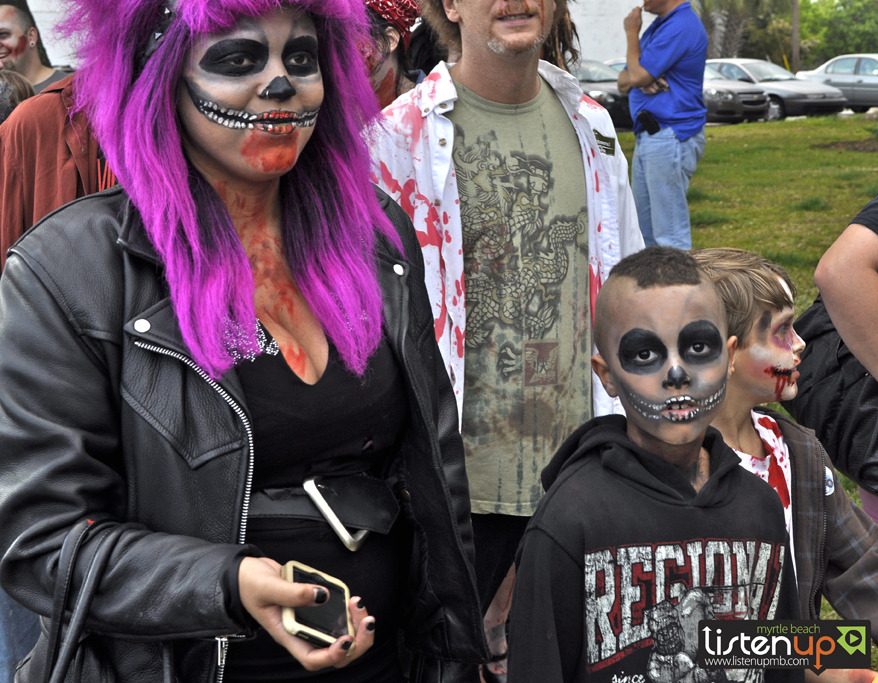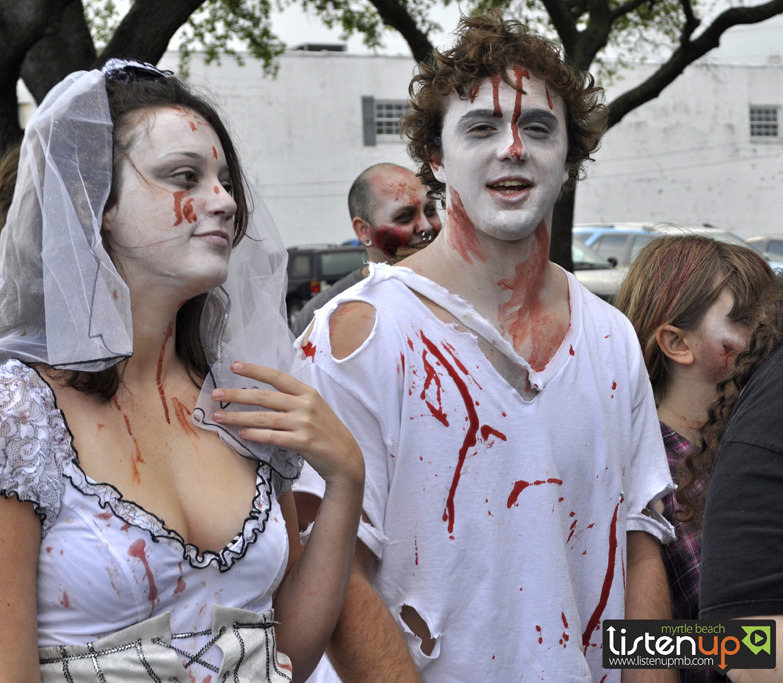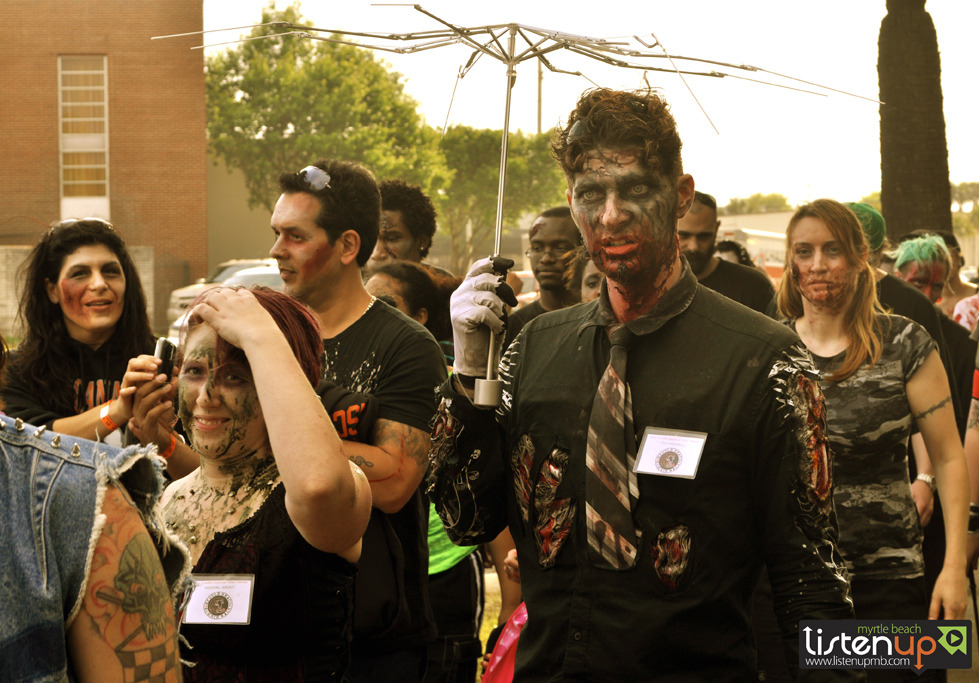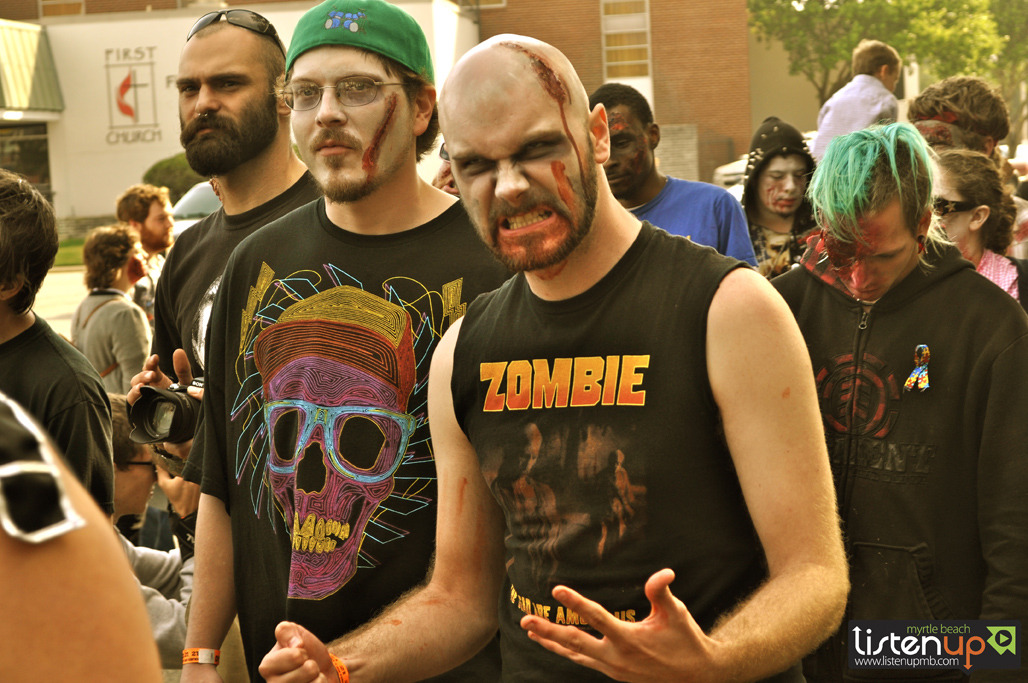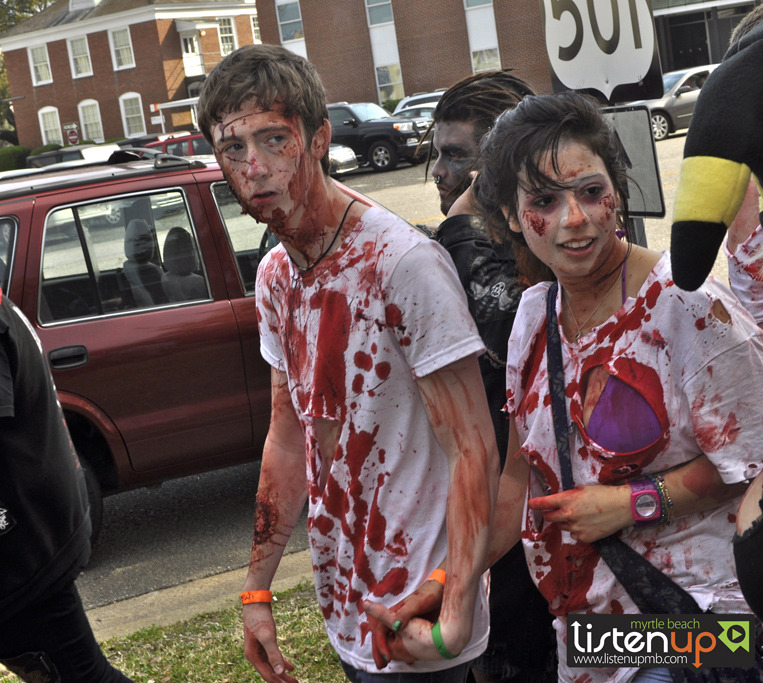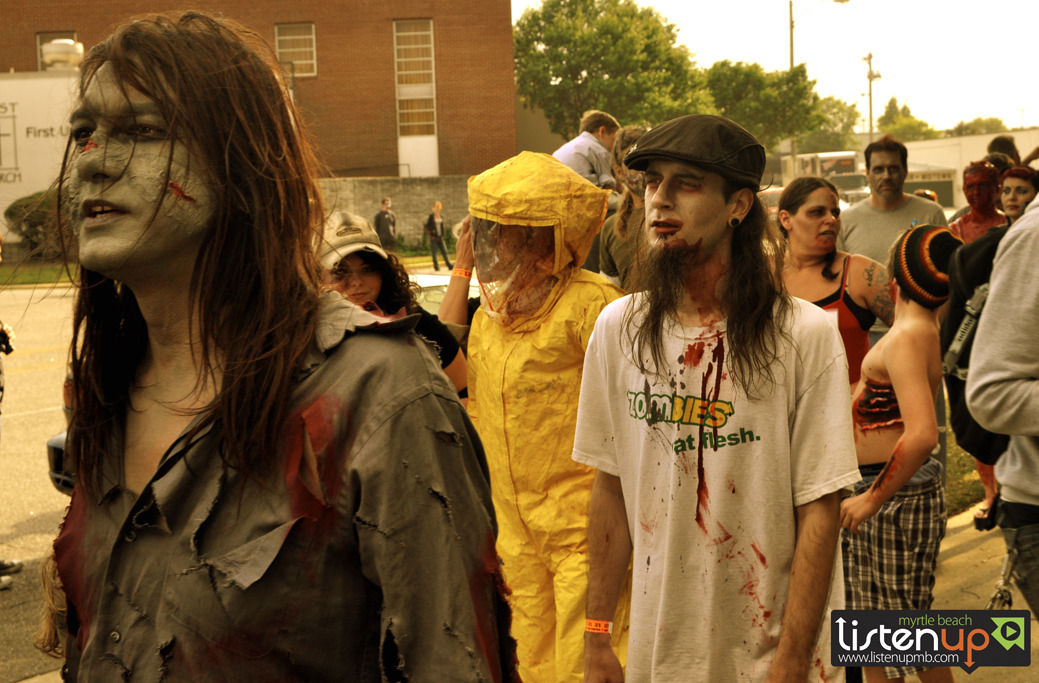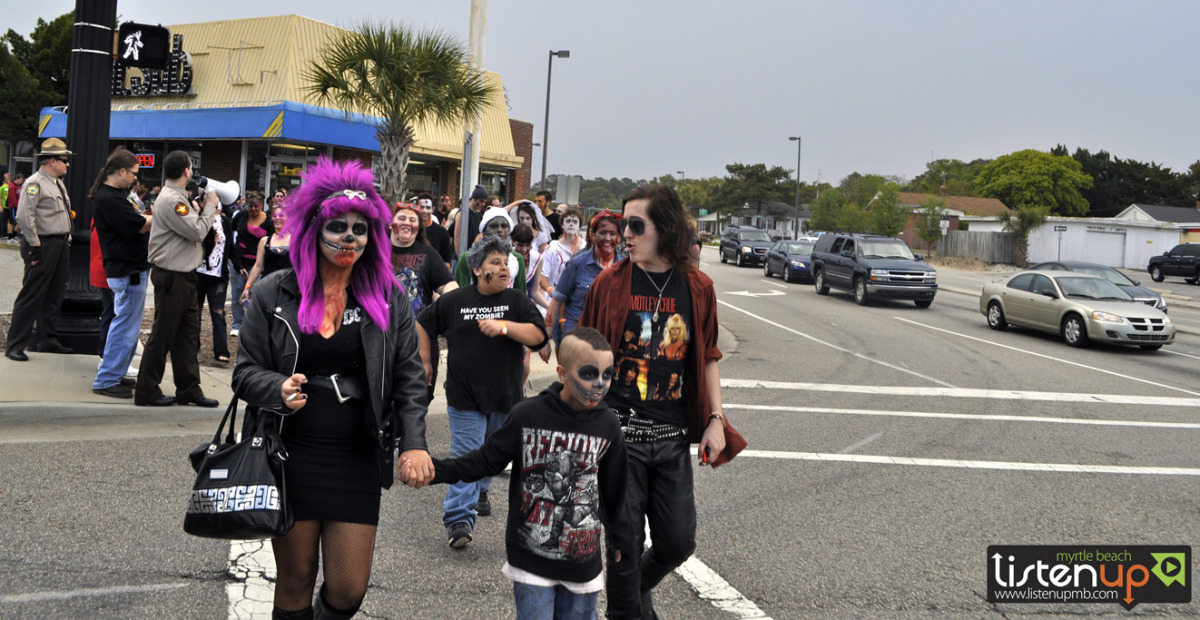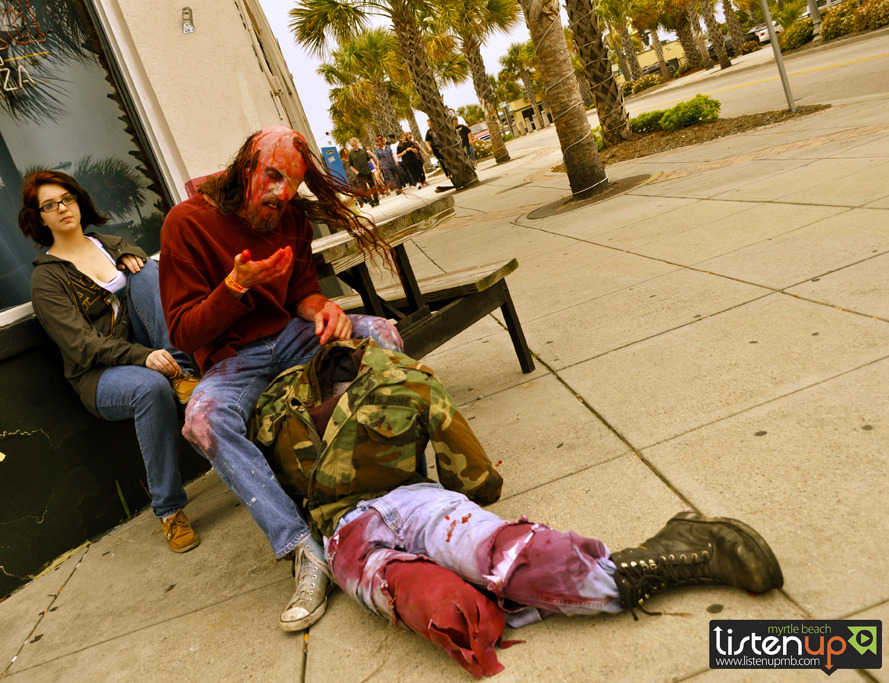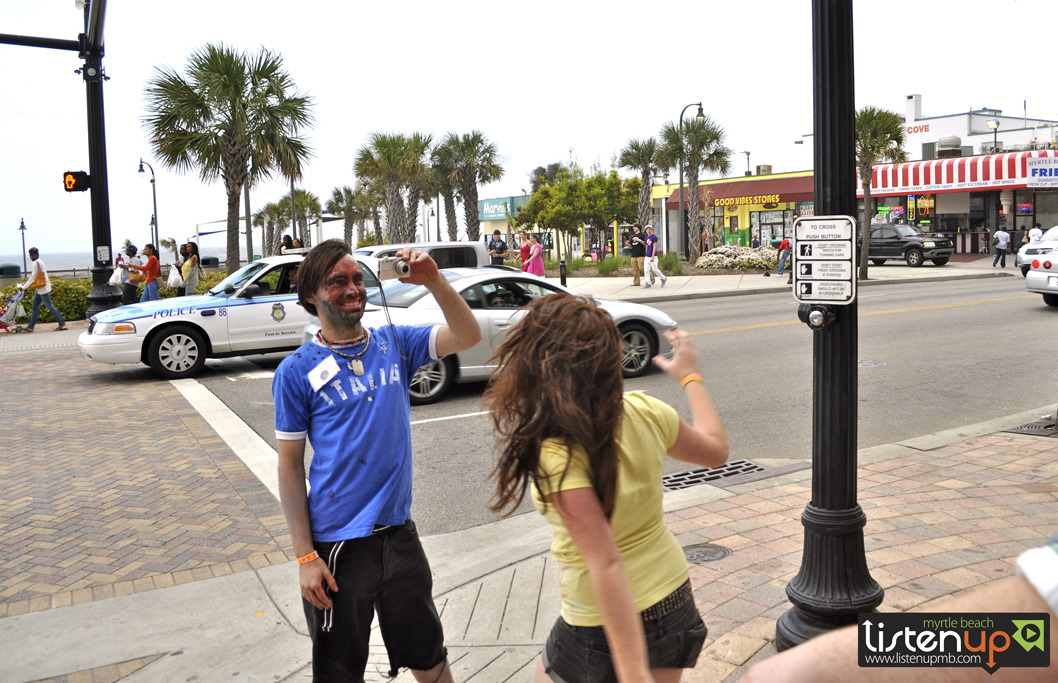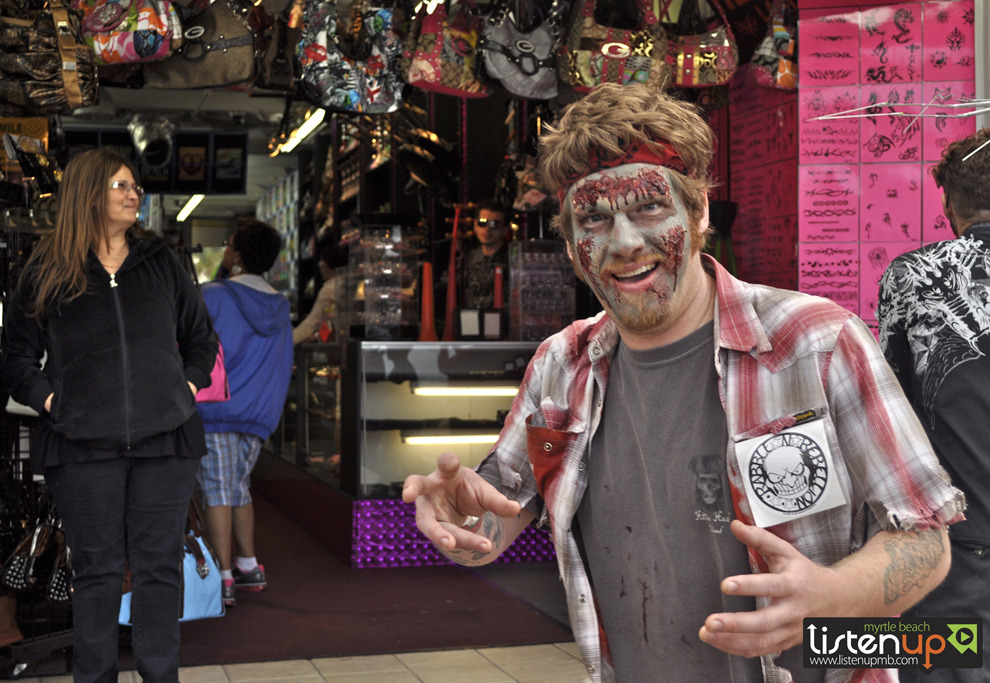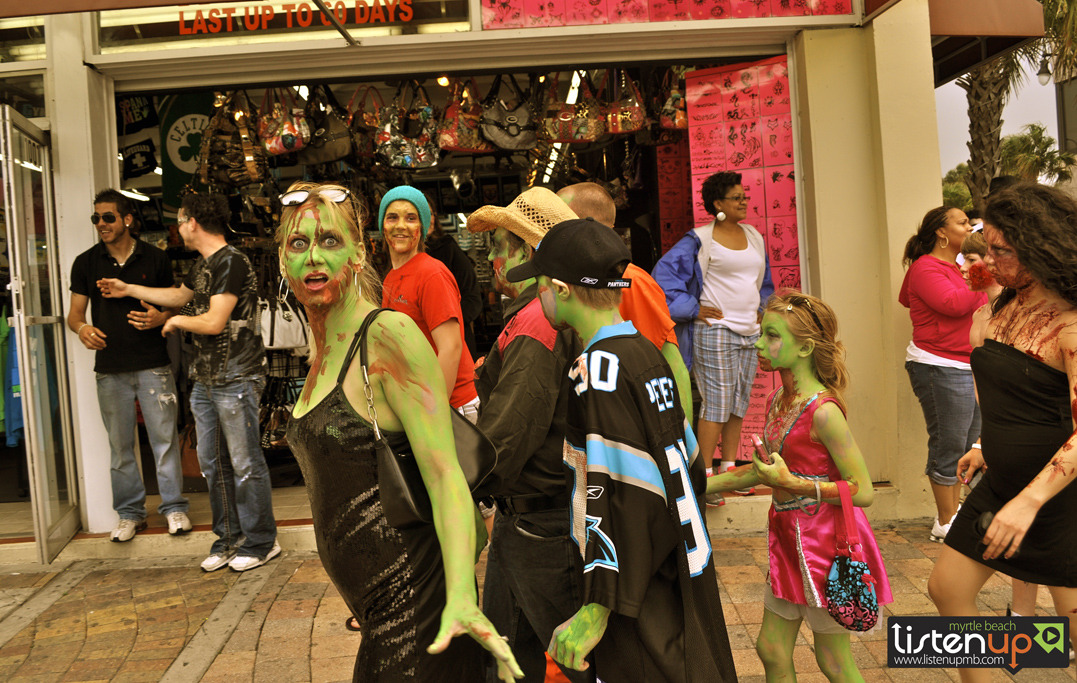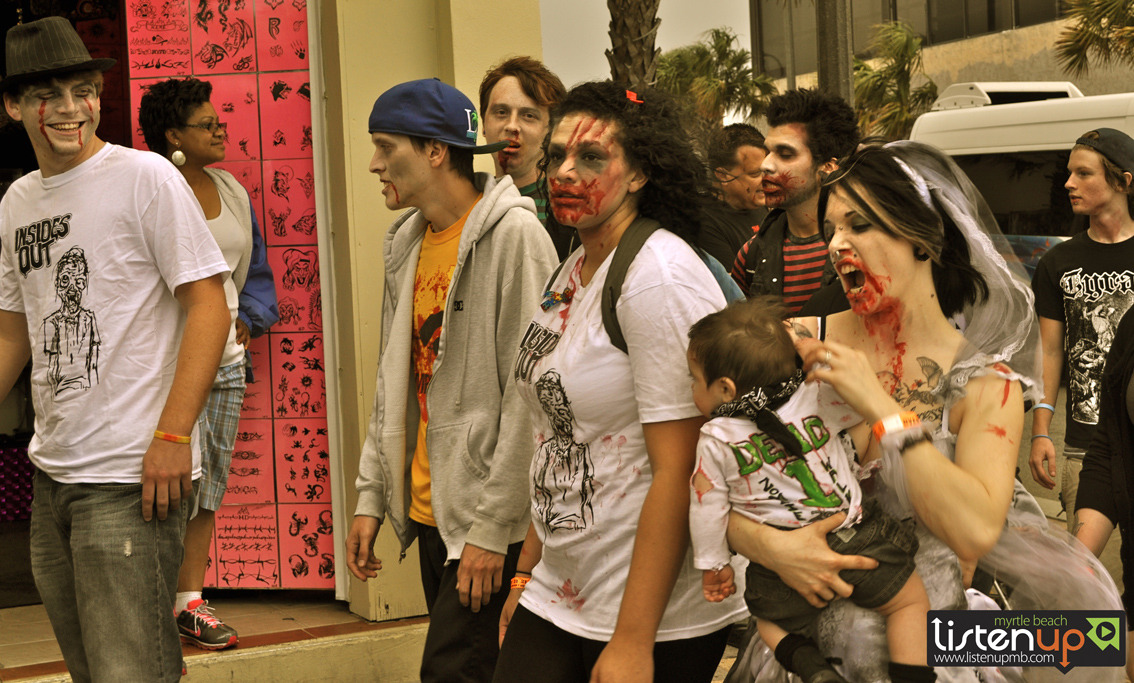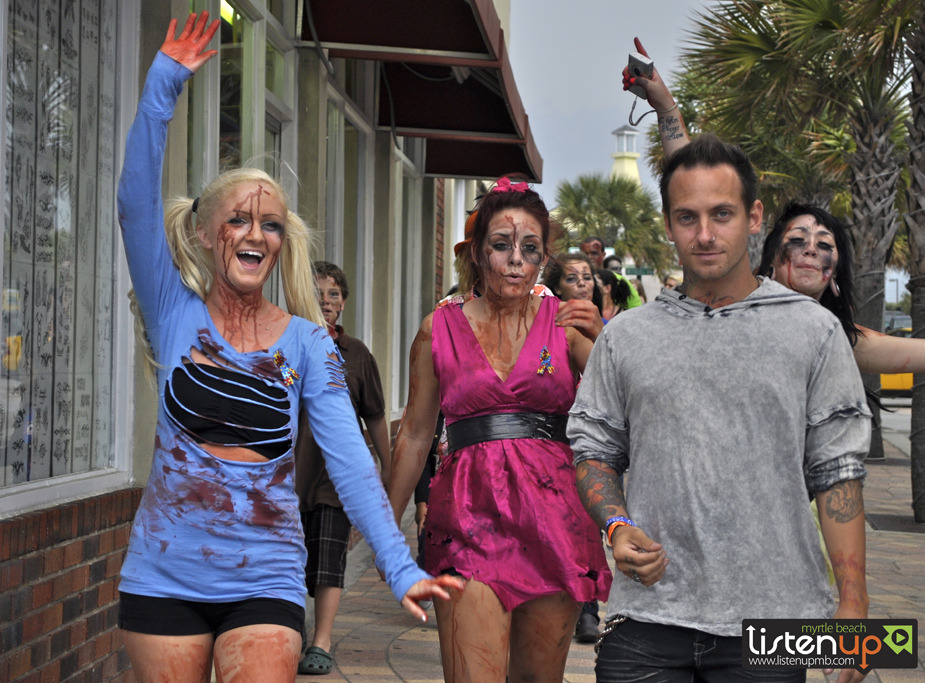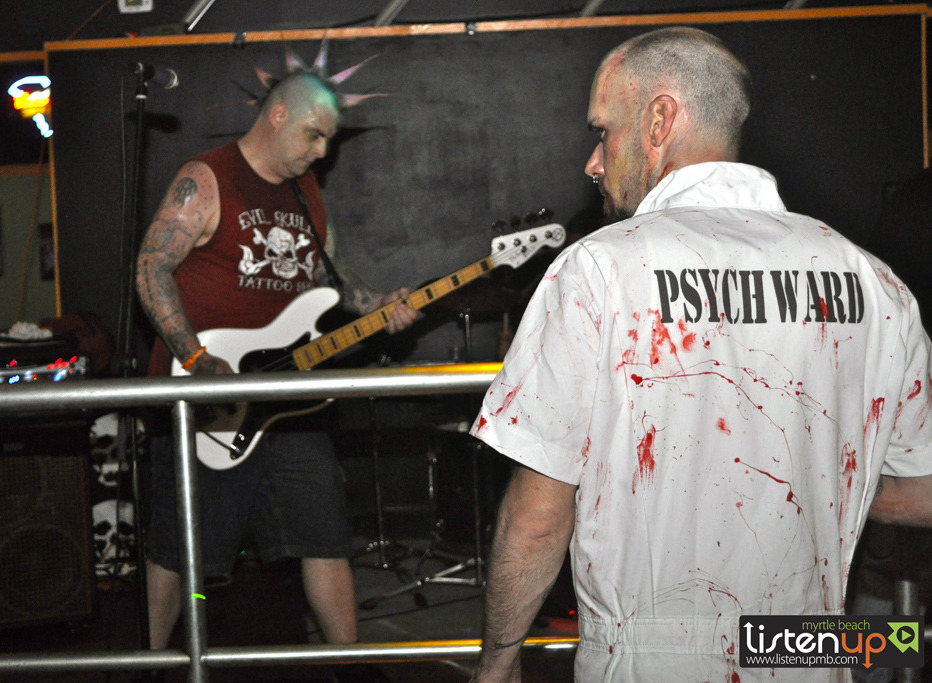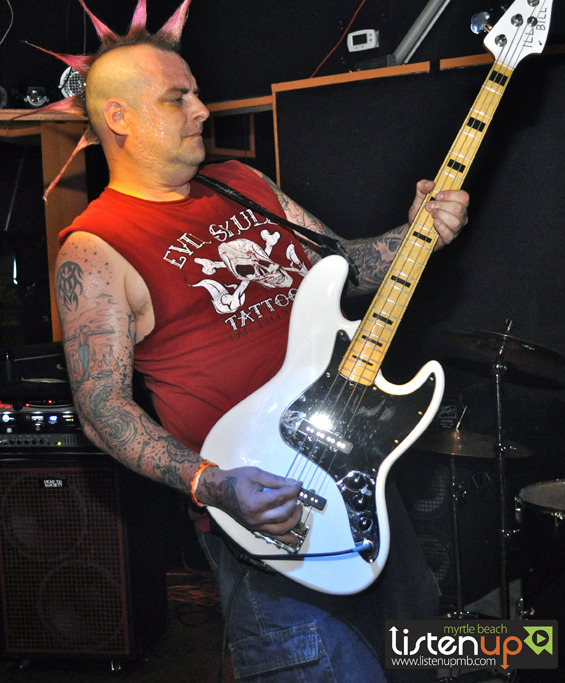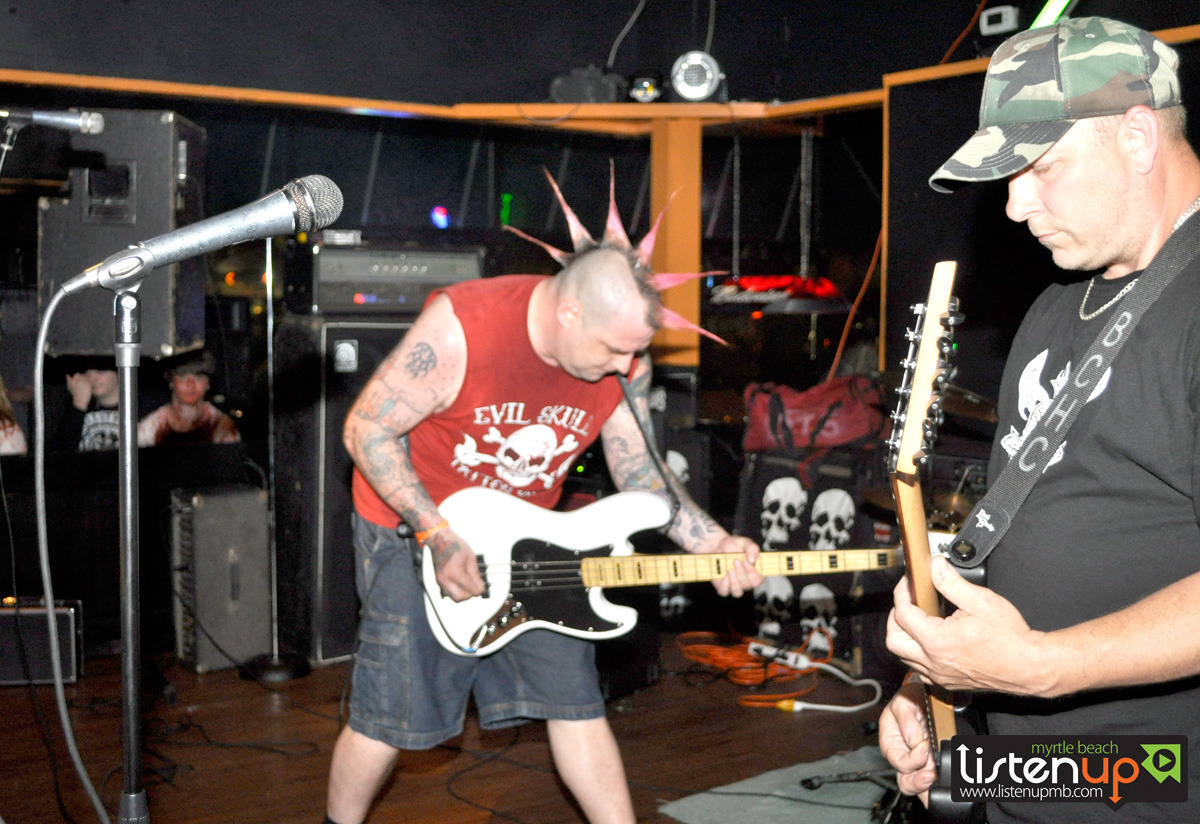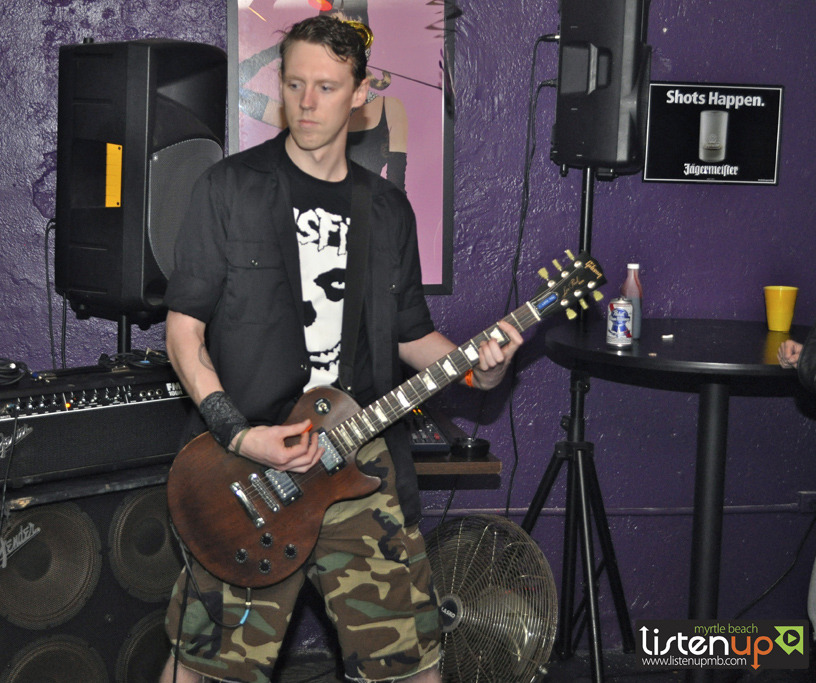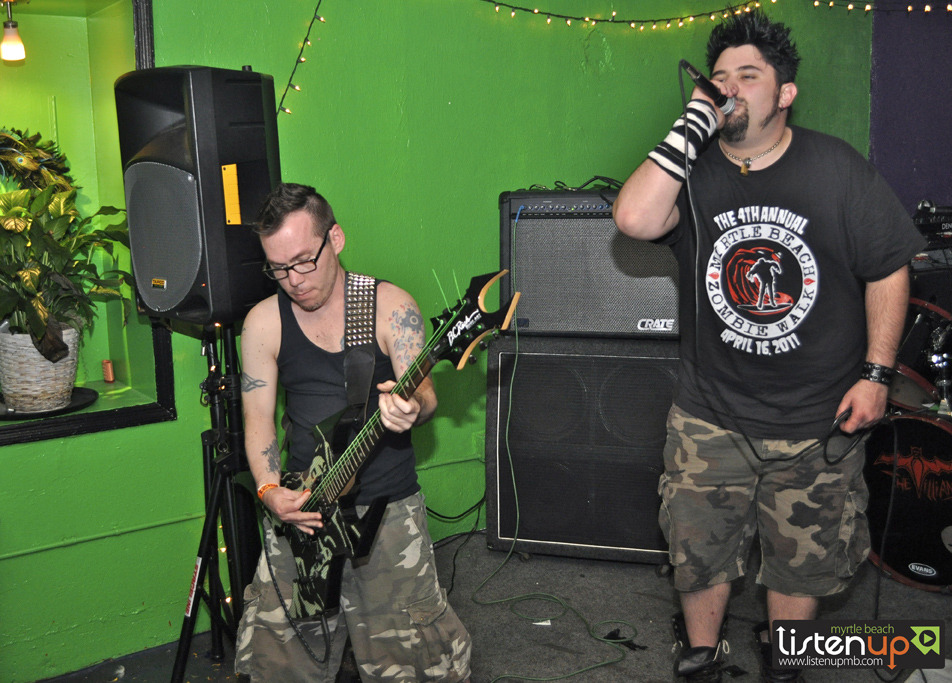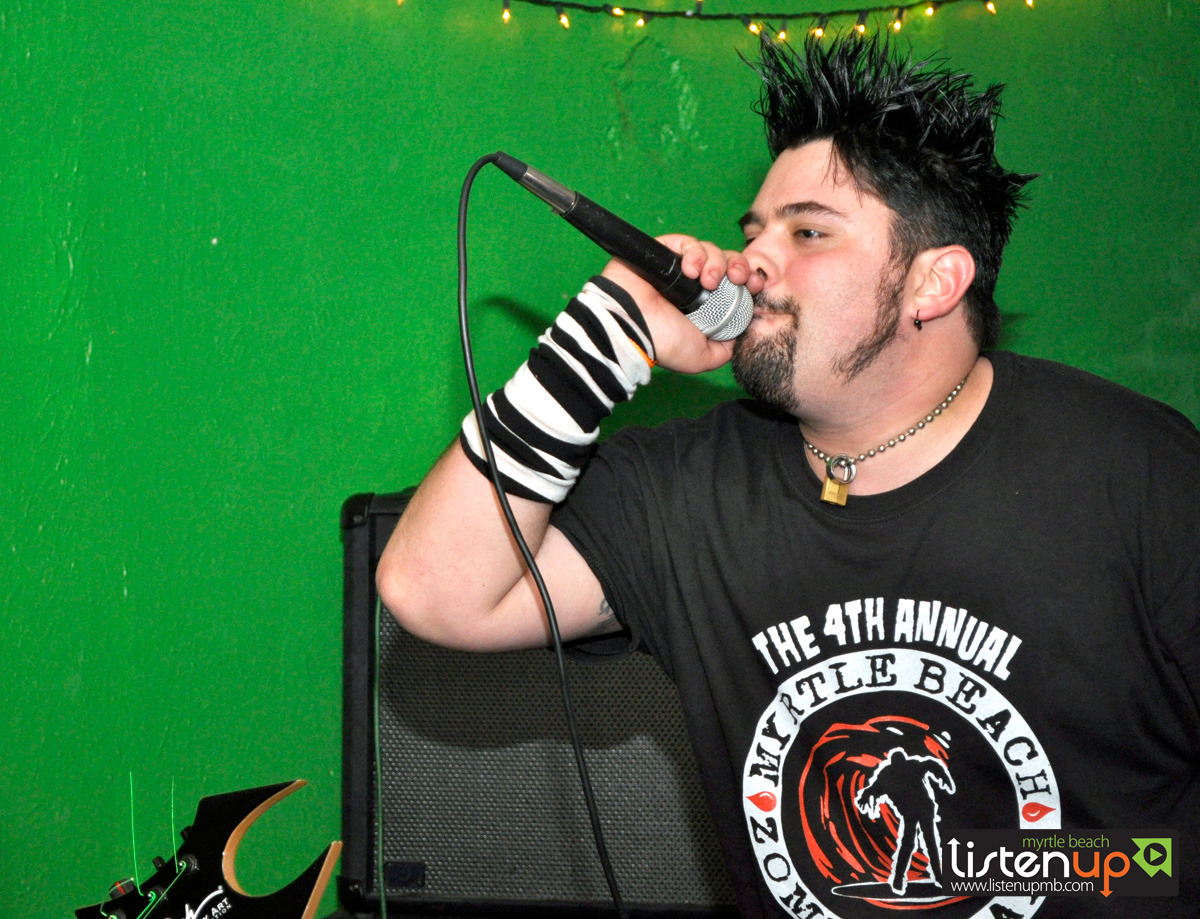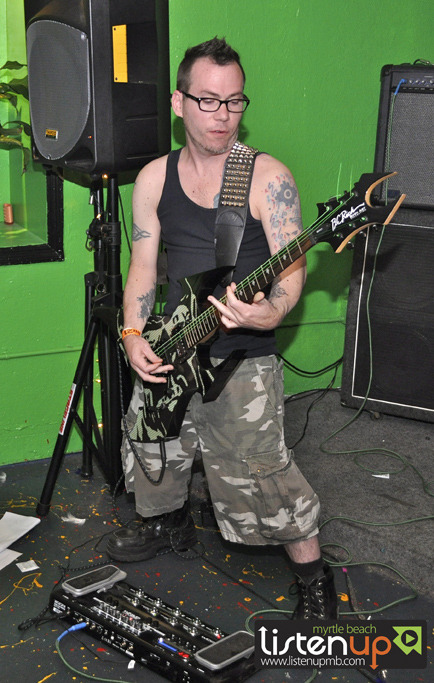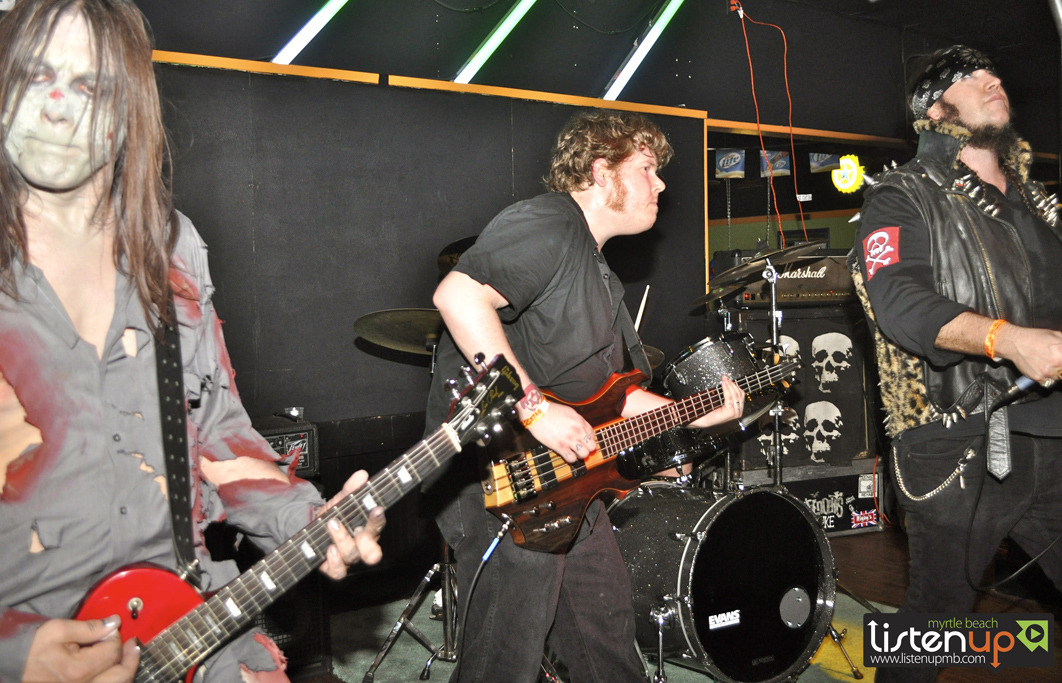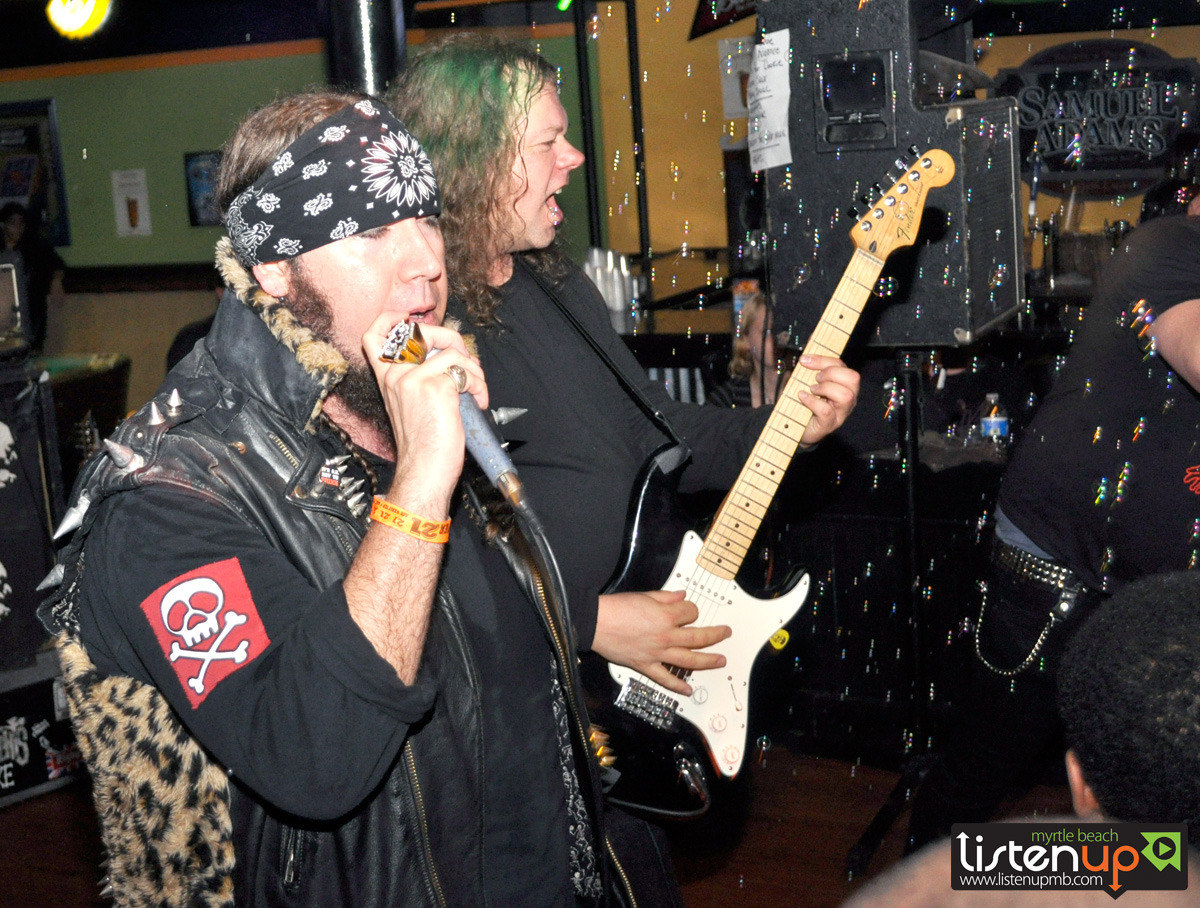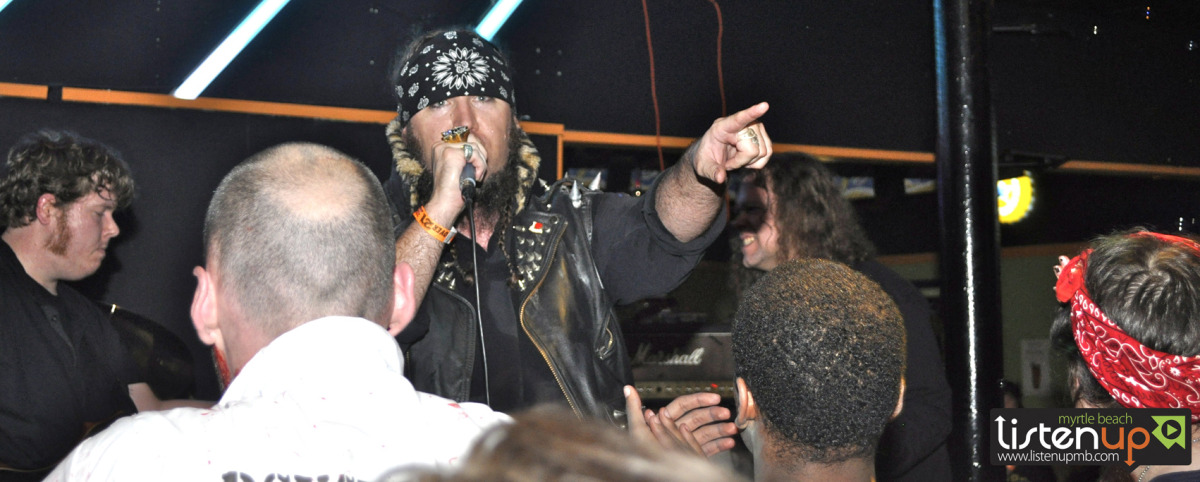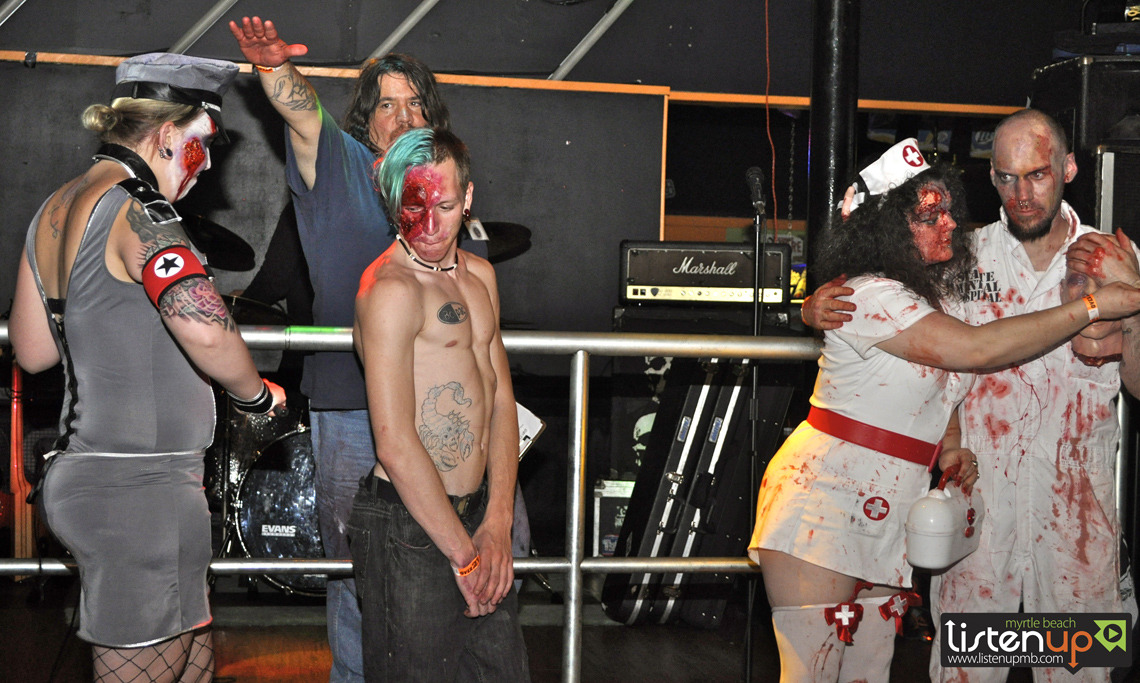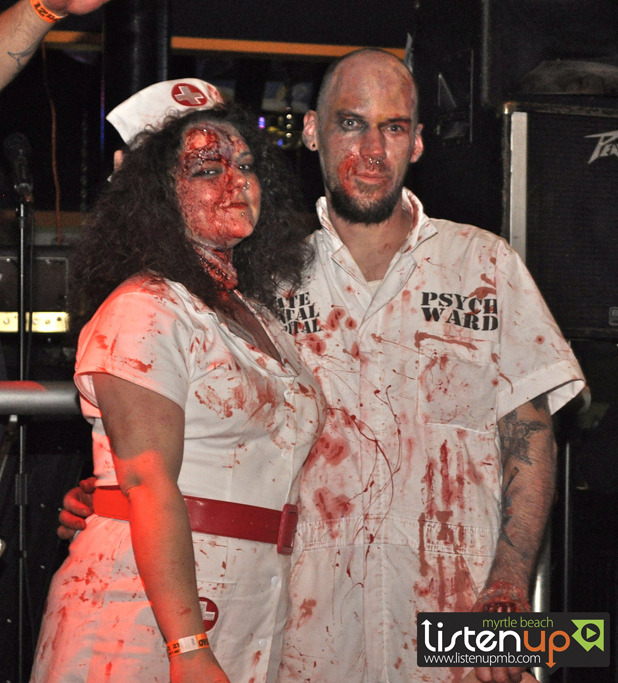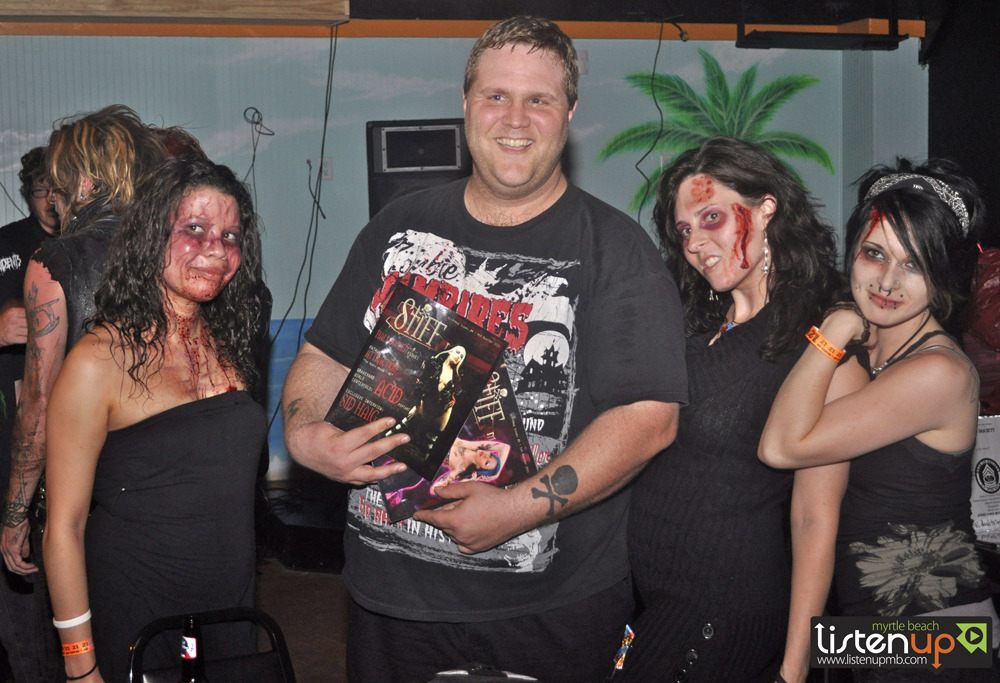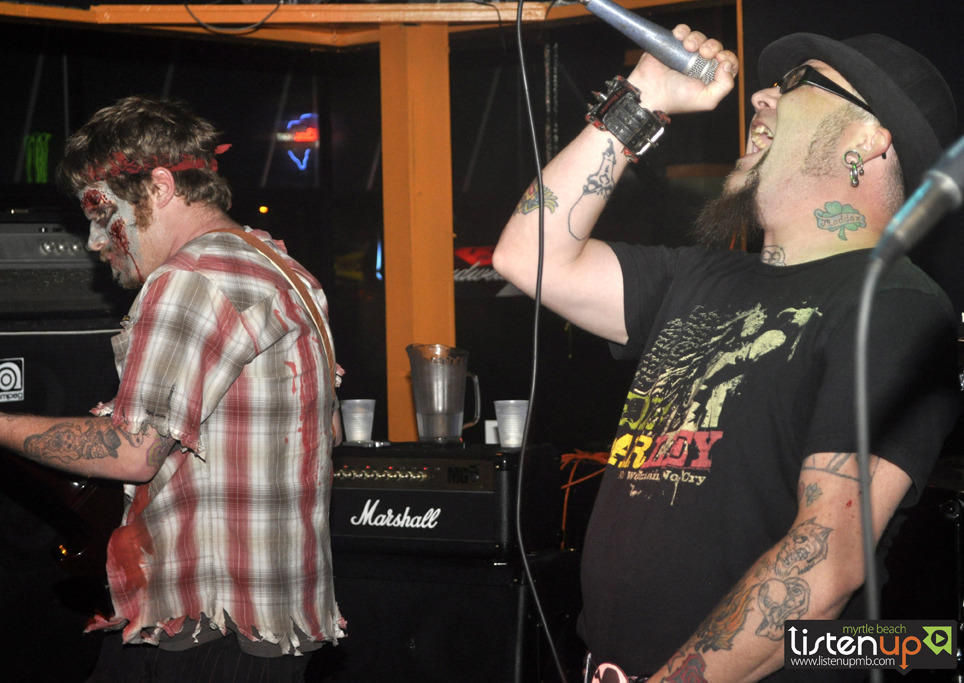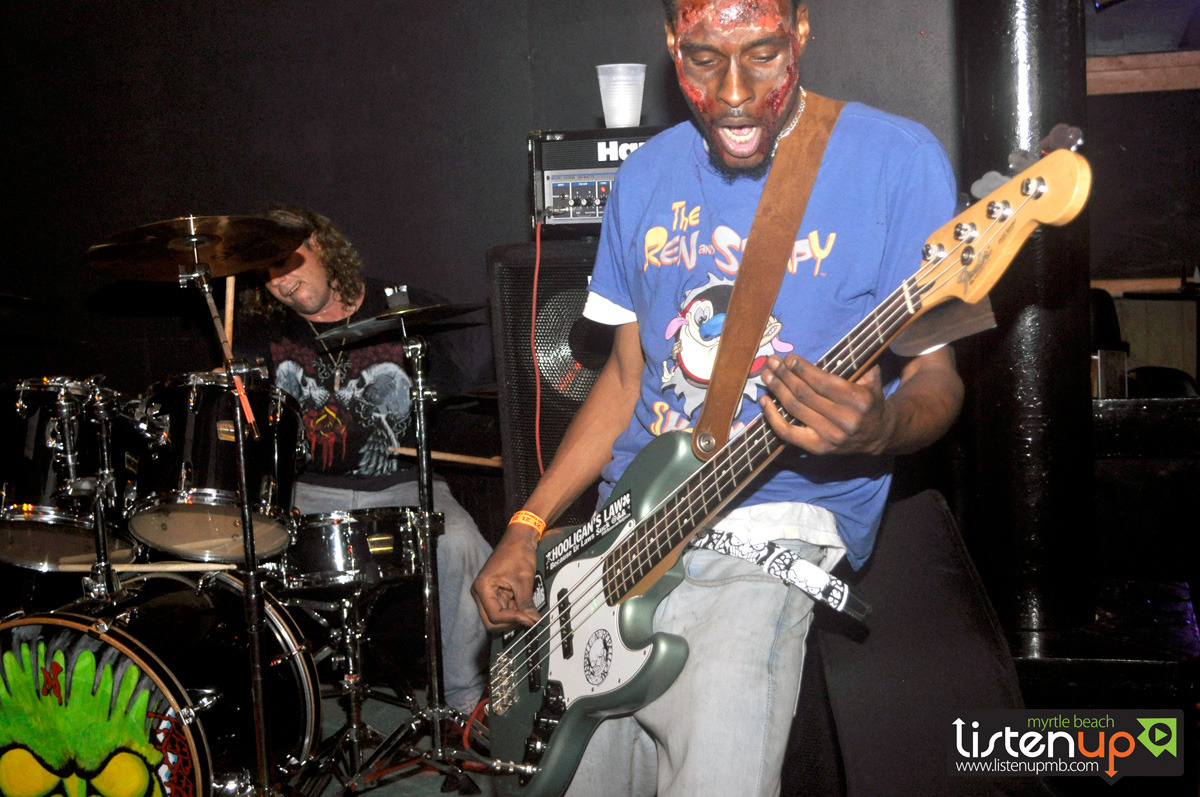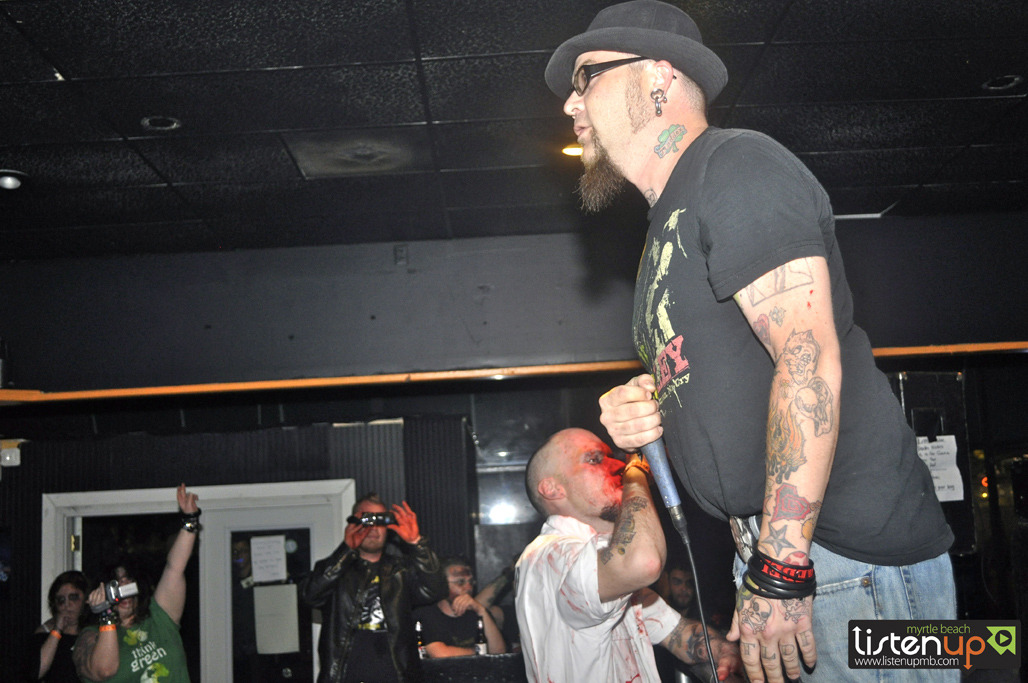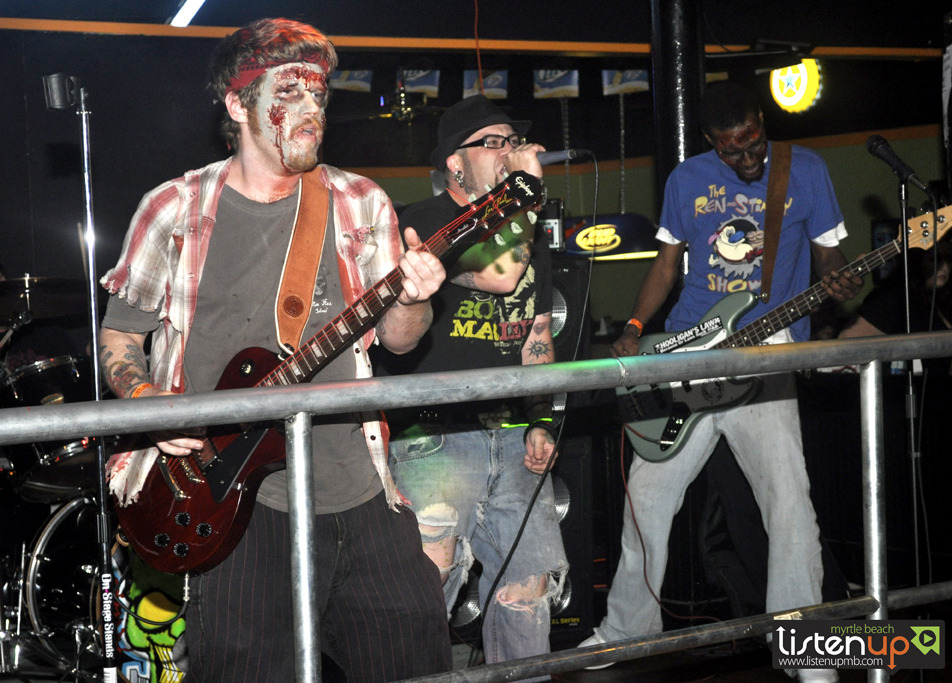 Click here to see full gallery from last year's event.
Founded in 2008, this annual underground event consists of attendees who dress in costumes and make-up to walk the streets of downtown while staying in character as a legion of undead zombies. With each "zombie" or attendee donating $5 — $10 for a two-day pass to pre- and post-party events — the walk raises funds for local charities.

Past years have benefitted groups such as Autism Advocate Foundation and Grand Strand Humane Society. This year's event will help out Project Lighthouse, a downtown-based street outreach program by Sea Haven Inc. which provides support for runaway and homeless teens.

"Project Lighthouse is a really deserving group. They help out at-risk youths between the ages of 13 and 21 and they don't discriminate at all as to who they help or let in," said Russell. "They give the kids food, a place to do their laundry, they'll provide bus tickets back home for runaways, refer them to counseling, whatever they need."

This year's walk will move across Kings Highway from its former home base at Fresh Brewed Coffee House and be centered at The Sound Hole, a venue that's become the de facto home of alternative and underground music in Myrtle Beach.

"[Owners] Shellie and Robert [Rowell] are wonderful. We wouldn't have been able to do it this year without them. They've offered their venue to me multiple times for any event and so we decided to move it here," said Russell.

In addition to Rowells desire to host and get involved with the event, the decision to move was partially based on wanting to simplify the walk's route and alleviate traffic issues by not having to cross U.S. 17.


Myrtle Beach Music: Adam Russell, right, dressed as Beetlejuice announces the King and Queen at the Zombie Prom in January."Safety is our main concern," Russell says.

The route for this year's event will see attendees lining up at The Sound Hole around 4:45 p.m. Saturday and at 5 p.m. departing down Chester Street with a quick turn onto Mr. Joe White Avenue. From there the walk will hang a right down through the heart of downtown on Ocean Boulevard to 7th Avenue North where the undead will be unleashed onto the Myrtle Beach Boardwalk.

"We did the boardwalk last year as well. We saw quite a few tourists that way," said Russell. "A few were a little confused, but I'd say most of them found us quite enjoyable to watch."

On the boardwalk, the route will follow its path back north to Plyler Park before turning once again on 11th Avenue North and ending where they started.

Aside from a slightly altered route and change of venue, Russell says he plans to keep the same formula of what's been working for the past 5 years.

"Why fix something that really isn't broken?" he says.

As always, one of the main draws to the walk are the musical acts that come from as far away as New Jersey to perform during Zombie Walk weekend. With more than 40 bands and solo artists scheduled to play across two stages at The Sound Hole and at the nearby Victory Tavern, there's plenty of variety for fans of all tastes.

"We've covered the entire scope of music here with everything from Acoustic to Thrash Metal to Hip-Hop. It's something for everyone," said Russell.

Though he admits it can be tough to accommodate that many musicians, make-up artists and attendees into a confined space, Russell enjoy the challenge.


Myrtle Beach Music: Walkers depart down Broadway Street at last year's walk. This year's event will start on the other side of U.S. 17 at The Sound Hole."It's been a lot of work, but it's a lot of fun for me as well. Our support team has been amazing this year. I couldn't do it without them."

But even with the months of work put into planning Saturday's event, organizers are looking to continue to build support for the walk with additional events throughout the year such as January's Zombie Prom.

Russell says he sees the Zombie Walk crowd as something of a movement that could continue to grow beyond just an annual event.

"I want to try new things and explore new areas and see where we can take this support we've seen," he said "Yes, we'll always have the Zombie Walk, but why not try other things throughout the year."

Once this year's walk is complete, organizers will look toward events such as a Vampires vs. Zombies Party in October and "The End of The World" Party to celebrate Mayan prediction of Armageddon on Dec. 21.

"Zombies have really blown up in the past few years with the The Walking Dead' and just the success of horror in general. People like to dress up go out and have a good time. "It's kinda like St. Patty's Day when everybody's Irish...for Zombie Walks it's just Halloween all over again," Russell says. ""It's really just a big group of people getting together to help the community. Sure it might not be your conventional fundraiser, but that's why we love it."

For more information on the walk visit http://myrtlebeachzombiewalk.info/ or check out the full musical lineup of each event below.

MUSICAL LINEUP
MBZW Pre-Party: Contagion 420
The Sound Hole, Friday – $5 Cover (Free w/ GWAR ticket stub from HOB) Details

Indoor Stage
• 8 p.m.: Shifty Tricks (New Jersey - Ska/Post-Punk)
• 9 p.m.: The IZM (Myrtle Beach - Hard Rock)
• 10 p.m.:Death Of Paris (Columbia - Electro Rock)
• 11 p.m.: Signs Of Iris (Greenville - Alternative)
• Midnight: Treephort (Georgia - Punk)
• 1 a.m.: Bamboo Forest (Myrtle Beach - Punk)

Outdoor Stage
• 8:30 p.m.: TBA
• 9:30 p.m.: Hawaiian Shirt Day (Columbia - Ska/Punk)
• 10:30 p.m.: Brain Damage (New Jersey - Power Pop/Punk)
• 11:30 p.m.: Decm (Myrtle Beach -Hip-Hop/Beatboxing)
• 12:30 a.m.: Josh Carter Band (Rock Hill - Reggae/Rock)
MBZW Make-Up & Post Party: Epademic
Myrtle Beach Music: Rabble N Rebellion performs at Bikini Beach Bar during last year's Zombie Walk.The Sound Hole, Saturday – $5 to attend walk, After Party free with MBZW admission ($5 otherwise) Details

Indoor Stage
• Noon: Mark Bennett (Myrtle Beach - Acoustic)
• 1 p.m.: Brian Roessler (Myrtle Beach - Singer-songwriter)
• 2 p.m.: Exhaust The Fox (Myrtle Beach - Folk)
• 3 p.m.: Steve Pethel (Myrtle Beach - Rock/Acoustic)
• 4 p.m.: Raging Nipple (Charlotte - Punk/Rock)
• 4:45 - 5:45 p.m. : Myrtle Beach Zombie Walk Event
• 6 p.m: Brain Damage (New Jersey - Power Pop/Punk)
• 7 p.m.: Prowler (Myrtle Beach - Metal)
• 8 p.m.: Conception Of Being (Myrtle Beach - Death Metal)
• 9 p.m.: Nothing (Whiteville, N.C. - Metal)
• 10 p.m.: Dead To Society (Durham, N.C. - Punk)
• 11 p.m.: The Shot Downs
• Midnight: Rabble N Rebellion (Myrtle Beach - Hard Rock)
• 1 a.m.: The Graveyard Boulevard (Charlotte - Metal/Punk)

Outdoor Stage
• 1 p.m.: Ryan Lill (Summerville - Acoustic)
• 2 p.m.: The Pen Is Envy (Acoustic)
• 3 p.m.: Andrew Jernigan (Georgetown - Acoustic)
• 4 p.m.: Sista Otis (Detroit/Myrtle Beach - Rock 'N' Roll)
• 4:45 - 5:45 p.m. : Myrtle Beach Zombie Walk Event
• 6 p.m.: Thirst For Clarity (Lake View, SC - Thrash Metal)
• 7 p.m.: Shed This Burden (Florence - Prog Rock/Metal)
• 8 p.m.: Creepshow MOFO (Myrtle Beach - Metal)
• 9 p.m.:They Sold The Sun (Florence - Metal/Rock/Punk)
• 10 p.m.: Shifty Tricks (New Jersey - Ska/Post-Punk)
• 11 p.m.: Grave Intentions (Myrtle Beach - Punk)
• Midnight: The Body Bags (Charlotte - Horror Punk)
• 1 a.m.: Shark Legs (Myrtle Beach - Punk/Metal)
MBZW Post Party II: Quarantine
The Victory Tavern, Saturday – $5 to attend (After Party free with MBZW admission) Details
• 6 p.m.: Pineapple Shaped Lamps
• 7 p.m.: TBA
• 8 p.m.: QP-N-Shamroc (Myrtle Beach - Hip/Hop)
• 9 p.m.: The Insides Out (Jacksonville, N.C. - Punk)
• 10 p.m.: Rictus Grim (Wilmington - Horrorpunk)
• 11 p.m.: Darling Waste (Myrtle Beach - Indie Rock)
• Midnight: The Villains (Raleigh - Punk Rock)
• 1 a.m.: The Missfits (All-drag queen Misfits Tribute)