Student of CCU teaching associate Daniel Hull will perform a concert at 7:30 p.m. on Thursday in the Recital Hall of the Thomas W. and Robin W. Edwards College of Humanities and Fine Arts.
The program will include solos and duets as well as performances by the Guitar Quartet and Guitar Orchestra. Works by such artists as Bach, Beethoven, Brouwer, York, Llobet and Bennett will be performed.
Student guitar performers include Joe Angelica, Daniel Koebler, Michael Lott, Michael Cribb, Matt Tracy, Curtis McDonald, Charles Grace, Chris Arluk, Kali Hatosy, Zack Patton, Riley Randall, Brad Thompson and Brandon Hedglin.
General admission is $3; children 10 and under are admitted free.
For tickets or more information, call the Wheelwright Box Office Monday through Friday from 9 a.m. to 4:30 p.m. at 843-349-2502.
Some background on Hull: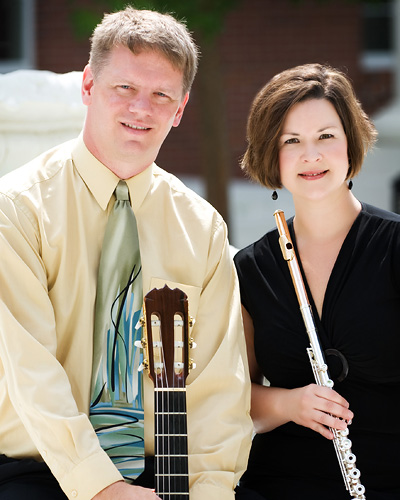 Myrtle Beach Music: Dr. Daniel Hull (left) with flutist Dr. Amy Hardison TullyDr. Daniel Hull earned a Bachelor of Music degree in guitar performance from Illinois State University, where he studied with Douglas Rubio and the degrees Master of Music and Doctor of Musical Arts in guitar performance from the Eastman School of Music while studying with Nicholas Goluses. An active soloist, ensemble musician and teacher, Hull has performed throughout the United States, Europe and the Caribbean. In addition to teaching applied guitar at Francis Marion University, he is on the music faculty of Coastal Carolina University, where he teaches guitar, music appreciation, music theory, ear-training and directs the CCU Guitar Ensembles. Dr. Hull is also on the music faculty at Horry-Georgetown Technical College in Conway, SC, where he teaches music appreciation.